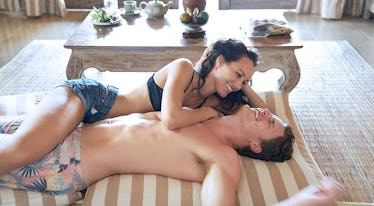 9 Sweet Little Milestones That Happen After You Say "I Love You" For The First Time
Being in a serious, committed relationship is full of fun moments. Spontaneous moments of affection, fun getaways, and a new kind of intimacy are all great things to look forward to. But really, one of the biggest moments in any relationship is saying "I love you." No matter when it happens, or who says it first, it's a big deal, and the milestones that happen after you say "I love you" are even further proof that it's a game-changer when it comes to relationships.
Basically, when you first get into a relationship, you have that "I love you" looming over you. While you might not acknowledge it, or even really realize it, it's important to know that there's really no pressure to say "I love you" at any certain point. The thing is, though, when you do say those three little words, things will change, and other milestones will soon follow. They might not be huge or life-changing necessarily, but they are heartwarming, and could really make you appreciate your relationship even more.
For instance, if you've said "I love you," before you've met your significant other's parents, then that will likely happen next, along with a few other little things.