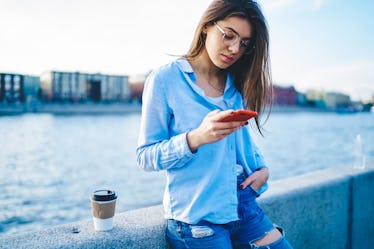 3 Personality Types Who Just Can't Resist Reading Their Ex's Texts
Shutterstock
It's hard to believe that less than 30 years ago, the only evidence anyone had of their conversations with exes were letters, emails, and physical copies of photos. Nowadays, it's all too easy to scroll through the countless Instagram comments, dating app DMs, and other digital exchanges you had while you were together. As it turns out, some are more prone to giving into this temptation than others — for the Myers-Briggs personality types who reread their ex's texts, it typically comes down to an innate sentimentality.
There are lots of reasons why you might re-read those texts, too. Maybe in the aftermath of a painful breakup, it's reassuring to take a walk down memory line and remember some of the positive times with your former partner. Or, maybe you simply miss your ex, and reviewing those conversations makes you feel more connected to them. It could be that you're starting to romanticize the relationship, and you know that looking back on certain exchanges will serve as an important reminder of why you don't belong together.
Regardless of why you do it, know that re-reading your ex's texts is a relatively common habit — and if you're one of the following personality types, you probably just can't help yourself. Why? Let's face it: You're sentimental AF.