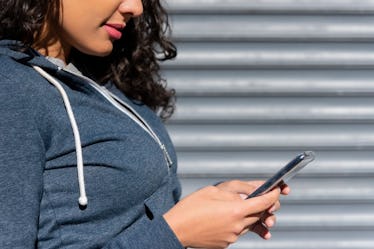 If You Know Your Ex Is Struggling, Experts Say Think Twice About Texting
I've never been one to intentionally keep tabs on an ex. If anything, it's the opposite — I try and cut all ties so I can get over them as quickly as possible. But imposing a total blackout, considering social media is everywhere these days, is next to impossible. Seeing or reading a few bits and pieces about them is almost inevitable. Sure, it's easy to ignore, but if I were to hear they were really going through something hard, I don't know if I could. I'd probably want reach out. But should you text your ex if they're struggling? Or is it totally inappropriate to reach out to an ex when they're going through something rough after you've broken up?
Honestly, it's complicated. On the one hand, this is someone you once cared for, or even loved (and maybe still do). But on the other hand, you've made a conscious decision to not be a part of each other's lives anymore. It's tricky, and definitely a grey area. To get a better idea of how to handle this situation, I reached out to several relationship experts for their take on when, if, and how to text an ex if you know they're in need of support, whether it's because they're dealing with loss, heartbreak, or they're just down in the dumps. Here's what they had to say.