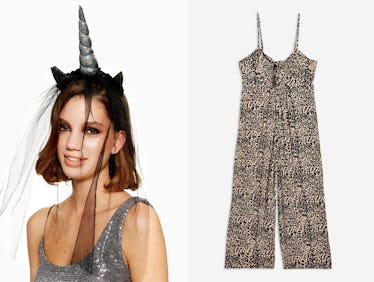 Topshop Literally Has *The* Perfect Picks If You Need An Easy, Last-Minute Halloween Costume
Topshop
Every year, as we quickly approach Halloween, I find myself caught between two opposing desires: to either go all out on my costume or to not waste money on an outfit I can only wear on one day of the year. This year, though, I've decided to DIY my costumes out of pieces I actually want in my wardrobe, so that I can wear them throughout the fall and winter and really get my money's worth. In fact, I've designed three Halloween costumes from Topshop just by scrolling through all the fashion goodness on their website. No really, all three looks are made up of pieces I'd be happy to keep in my closet, from cute boots and fanny packs to leather jackets and chic footwear.
Considering the majority of my costumes usually revolve around the makeup aspect anyway, I'm not always ready to drop bills on the outfit portion. Don't get me wrong, Topshop isn't cheap, but if I'm spending, I'm happier investing in pieces that I can wear all season long, as opposed to a one-night-stand costume that people will think I'm nuts for trying to rewear on Nov. 1. The key is to make your accessories your costume, and from there, you can incorporate them into your daily looks, too. Read on for my top three faves, with all the ingredients in each costume recipe available right on Topshop's site.
Luxe Leopard
This costume could go one of two ways, depending on whether you choose to be an actual jungle cat with a stylish twist or a Cheetah Girl if the movie was shot in 2018. Either way, it's a good look! The Animal Print Jumpsuit ($60, topshop.com) features a sweet tie-front top and comfortable, cropped wide leg bottoms, and pairing it with the Fluffy Halloween Choker ($12, topshop.com) channels both animal collar and fur vibes.
Since leopard print is already acceptable everyday wear, and quite popular at that, I'd use this look as an opportunity to really load up on a ton of pieces. It will be funny to wear them all at once for the sake of the costume, and then, you'll have a ton of new leopard pieces to amp up the rest of your fall and winter wardrobe after Halloween is through.
I'm thinking the Kenya Leopard Print Bumbag ($48, topshop.com) and the MORTY Leopard Print Ankle Boots ($150, topshop.com) will be cute, fuzzy picks to rock that night and straight into the rest of the season. If you live somewhere chilly, the Leopard Print Borg Zip Up Jacket ($125, topshop.com) is a major must. Finally, all you need for glam is the easy-to-apply Leopard Face Stickers by Ocean ($8, topshop.com), and you'll be the chicest spotted cat there ever was.
Goth Animals
Need a group costume? Topshop has you covered, and I'm really thinking a cool-girl goth animal gang could be 2018's edgy take on last year's trio of rainbow unicorns. I'd start off each of the costumes with the same Black Plunge Unitard ($35, topshop.com) shown above, and then personalize each animal from there.
For a goth bunny, the Halloween Cobweb Veil ($20, topshop.com) could not be more perfect — plus, it's kinda giving me "Dangerous Woman" Ari vibes, so this could be a good accessory to keep on-hand for another costume if you've got multiple events on Halloween weekend.
For a goth unicorn, the Halloween Dark Unicorn Veil ($22, topshop.com) makes pretty, pastel unis look totally lame in comparison.
Finally, for a goth kitten, I love the Halloween Gem Lace And Feather Cat Ears ($20, topshop.com) for a glam-grunge feel. For this particular set of looks, it's not likely you'll be rewearing the headpieces — but if you want to, do you, sis. However, the unitard is the ultimate piece to style for everyday looks, especially with a chic jacket.
Maybe the goth bunny wears the Borg Biker Jacket ($125, topshop.com) to show off its fur? And of course, the goth kitten goes classic cool-girl with the Leather Look Biker Jacket ($95, topshop.com), while the goth unicorn opts for something slightly more whimsical, like the Beaded Fringe Jacket ($280, topshop.com). A good jacket can be pricy, but knowing you and your crew can rock them all season long makes the splurge way more justifiable.
Vampy Queen
If you're looking for a glam, sultry costume to rock this year, a vampiress is definitely the move. All you need is the perfect dress and some dramatic makeup to really seal the deal — and there are no strict rules for vampire attire, so you can choose whatever you'd like! My top two picks that I'd love for both my costume and future nights out during fall and winter are the Plain Satin Slip Dress ($68, topshop.com) if you like things loose and long, or the Studded Bardot Bandage Dress ($180, topshop.com) if you like them, well, just the opposite.
These dresses really get the vampire treatment when you pair them with some statement shoes, like these incredible HOT Hardware Boots ($150, topshop.com) or the spiky JINX Studded Pointed Shoes ($100, topshop.com). Play up vampire vibes by accessorizing with the Glitter Blood Drip Halloween Choker Necklace ($9, topshop.com) and the Spider Web Stickers by Ocean ($10, topshop.com) and you're ready to impress Dracula and all his friends.
You heard it here first, people: Topshop is the new Party City, and they've really got everything a girl could need for a fire Halloween costume. Personally, I'm eager to use this holiday to finally snag some of the Topshop pieces that have been sitting in my online cart for ages, and now that I can justify them in the name of Halloween spirit, I'm planning to buy ASAP.