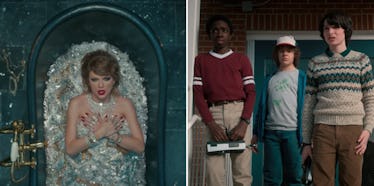 10 Halloween Costume Ideas For Five Friends That'll Take The Cake & The Candy
Have you figured out what you're wearing for Halloween yet? Odds are, if you're reading this, you and your friends are feeling a little spooky and uninspired. Together, you've gone through all the possibilities, and nothing seems fresh and exciting enough to win the costume contest. Ghosts are too predictable, and dressing up like devils is so, like, five years ago. You thought about going to the party down the block as the Powerpuff Girls, or the characters from Mean Girls. But, then somebody would be left out! Don't worry: These five-person Halloween costumes will take the cake — and the candy bars, too. In the meantime, can somebody please pass the peanut butter cups?
Let's be honest: There are two kinds of friend groups when it comes to Halloween. There are the ones that plan their Halloween costume months in advance. Every friend has a homemade T-shirt, and they research all the latest trends in pop culture to make sure that their look is on point. Then, there are crews like yours, that leave everything to the last-minute.
You scroll through the Internet looking for some ideas that are witty and witchy, all at the same time. You pitch them to the group, and they either throw a thumbs up in the chat, or a strong, "Veto." (Ugh, the search continues.) Lucky for you, you don't have to dig too far to find some solid ideas for your crew. Here are 10 five-person costumes that will definitely be approved.