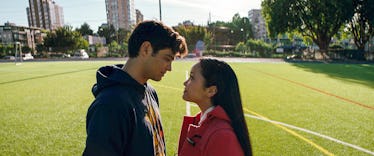 16 Pop Culture Couples' Costumes For Halloween 2018 That Are Actually Original
Netflix
Our love lives are probably far from enviable, but when Halloween comes around, we can disregard any flaws we might have in our real-life relationships and temporarily embody the pop culture pairs we admire most. Whether you want to emulate a fictional or real-life couple this Halloween season, original couple costume ideas are always crowd pleasers, and we've got your back if you're struggling with wardrobe inspiration. Although we won't judge if you want to try out more than one of these suggestions, you'll definitely want to consider these pop culture couples costumes for Halloween 2018.
While dressing as certain celeb pairs never becomes irrelevant (we're looking at you, John Legend and Chrissy Teigen), your costume isn't a true pop culture pick if it isn't a take on a brand new famous couple. Look no further than the recent influx of speedily engaged celeb couples for a respectable Halloween costume, but don't count out your favorite TV and movie pairings just yet. Thanks to 2018's revival of the rom com and welcoming back of some classic characters, representing a fictional duo ought to be just as fun as copying the looks of a real-life couple this year.
The possibilities of pop culture costumes are endless, but we have several below to get your mind stirring.