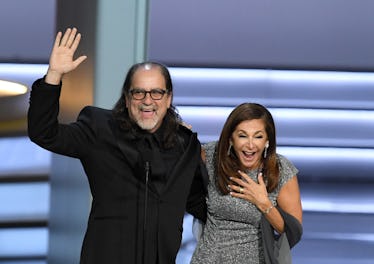 This Couple Just Got Engaged During An Emmy Awards Acceptance Speech, So Cue The Sobbing
Kevin Winter/Getty Images Entertainment/Getty Images
We've seen viral selfies, surprise snacks, and every bad joke possible during award ceremonies over the years. Before the 2018 Emmy Awards, the event was never the place for heartfelt moments between couples — after all, your favorite celebrity couples probably aren't thrilled about cameras interfering in their date nights. One winner in a less-publicized category just changed that. Glenn Weiss' 2018 Emmy Awards proposal just became the highlight of the night, and I'm currently sobbing more than I ever have at an acceptable speech.
Admit it: We all tune out a little when directing categories pop up at the Emmy Awards. We appreciate what these folks do, but we're not quite conditioned to admire them in the same way we love actors and actresses. So, when Glenn Weiss swept the Outstanding Directing for a Variety Special category with his work on the 90th Academy Awards, viewers' attention was definitely waning once he hit the stage. He quickly won the audience's sympathy when he mentioned the recent death of his mother and his subsequent heartbreak. Interest piqued when he addressed his girlfriend, Jan Svendsen, in the crowd, calling her his sunshine and mentioning how his mother told him never to let go of his sunshine.
"You wonder why I don't call you my girlfriend?" Weiss asked Svendsen. "It's because I want to call you my wife."
Cue an entire audience's roars of ecstacy. Turns out that the mere allusion of a marriage proposal can bring the house down!
Allowing the hint to sink in long enough for a GIF-worthy reaction from SNL star Leslie Jones, Weiss inspired a standing ovation. Stunned but clearly thrilled, Svendsen stood, nodding out a premature yes. As Weiss reminded the crowd he hadn't even popped the question yet, Svendsen found her way onstage, charming the hearts of hundreds of Hollywood cynics.
Proposing to her with his mother's ring (and his dad's permission to have said ring), Weiss said, "I want to put this ring that my mom wore on your finger in front of all these people and in front of my mom and your parents watching from above. Will you marry me?"
The sweet moment instantly became a trending topic. After all, apart from slightly wooden Bachelor proposals, when do you see such a heartfelt and emotional moment between couples on TV?
It's not everyone's ideal situation, but hey, proposing at the Emmy Awards isn't an awful idea. Whether you win or lose your category, you're all dressed up and guaranteed to have some kind of recording device nearby to capture the moment. If the big moment can't be onstage, then I'm sure there's a spot at one of the after-parties for an intimate proposal.
In case this is the first time you've heard of Weiss (and let's face it, it probably is), he's racked up quite the resume in Hollywood. According to his IMDb page, he's directed numerous award shows, including several broadcasts of the Emmy Awards and Tony Awards. So, in other words, he felt enough at home at the Emmys to propose there.
Even if it gave you some secondhand anxiety, Weiss' proposal has definitely topped the night's list of viral moments. Congratulations to the happy couple!