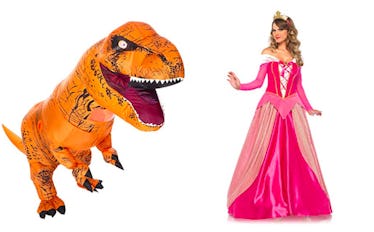 These Top 10 Halloween Costumes On Google Can Help You With A Last-Minute Look
For the most part, I pride myself on being a relatively creative person, with one exception: deciding on Halloween costumes. IMO, coming up with the absolute perfect Halloween costume can be one of the trickiest tasks in the world. It's so difficult to determine what'll be popular while also trying to avoid dressing exactly like 40 other people at your Halloween party, right? So, if you aren't entirely sure what you want to dress up as this year, Google's 10 most searched Halloween costumes in September 2018 were recently released on Friday, Oct. 12, and they might actually come in handy.
As you probably already know, Google happens to be one of the handiest tools in all the land. However, for Halloween costumes, Google can be both a blessing and a curse. While it might end up helping you find the greatest costume ever, it also probably showed that exact same costume to a lot of other people. But, you can always get creative with your own version of whatever it most popular. So, whether you want to look up the most popular costumes to dress just like your friends, or if you decide to put your own spin on a fan-favorite, Google's most-searched Halloween costumes on its "FRIGHTGEIST" website will show you over 100 of the most popular current costumes. You can check out the top 10 searches from September 2018 below.