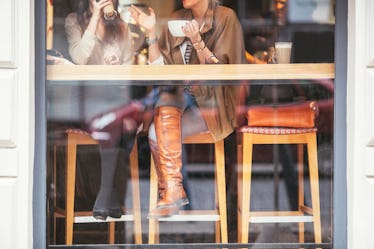 21 Indoor Date Ideas For When It's Too Cold Out, But You're Dying To Leave Your Apartment
When the weather drops below 30 degrees, the sidewalks get covered in ice, and you're still freezing despite wearing approximately 20 layers, staying home until April can be incredibly tempting. As wonderful as staying in may be, never leaving your place might start to feel a bit too stuffy. At some point, you may want to get out of the house, but considering it's probably freezing out, doing something that involves being outdoors is a hard no for you and bae. That's when indoor date ideas are probably your best option. Why face the frozen tundra when there are so many fun activities you can do indoors?
The thing is, even though it's been nice to stay cooped up at home with your partner, intertwined on the couch with your newest Netflix obsession playing on the TV for the last two weeks, cabin fever is real. I'm all for staying home and watching an entire season of Gilmore Girls in a day-and-a-half, but sometimes being in the same place for too long can feel suffocating. When you and bae start feeling antsy and you want to do something else, read on. Here are 21 date ideas that get you out of the house and out of the cold.
1. Hit up your local indoor ice skating rink.
2. Play tourist at your city's most iconic spot.
3. Make reservations at that new funky restaurant in town.
4. Visit a local brewery and taste all their seasonal beers.
5. Or if wine's more your thing, find the nearest winery and get wine drunk, because that's always fun.
6. If you're looking for a more adventurous date, consider going indoor rock climbing or skydiving.
7. Grab your friends and take a stab at an escape room.
8. Coffee-shop hopping! It's like bar-hopping, but with all the delicious seasonal drinks your heart desires.
9. If you're aiming for a low-key night that just gets you out of the house, go to the movies.
10. Check out your local paint-and-sip, and turn into Picasso for the night.
11. For a more relaxing date, consider going on a spa day.
12. Check out a fun museum or an opera.
13. Find out which local bar has the best boardgames and set up shop for the night alongside your boo and your friends with your favorite seasonal cocktail in hand.
14. Spend your evening at the local playhouse's production of The Nutcracker.
15. If your favorite artist happens to be in town, buy tickets to see their show.
16. Sign up for some cooking classes, so you'll have some kick*ss dishes to take to your upcoming holiday parties.
17. Go to a sporting event: hockey, basketball, football, the works!
18. Check out your local bookstore. Pick out a book for bae and let them do the same for you.
19. Sing your heart out at a karaoke bar.
20. Go holiday shopping together.
21. If you want to get out of the house but want to do something that involves minimal effort and is still fun, hop in the car with some hot cocoa and drive around your city to see some of the banging decorations.
When the cold is too much but you're itching to leave your house, bundle up, turn up the heat, and set out on one of these fun dates. Sure, it's freezing, but you never know: Fun dates might result in fun late-night activities, and nothing warms you up quicker than a little body heat, if ya catch my drift. Winter is coming, indeed, my friends.