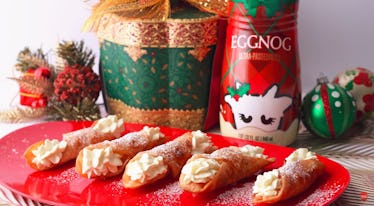 9 Recipes To Make With Eggnog That'll Get You Eggcited For The Holiday Season
It's the most wonderful time of the year, which means our favorite seasonal flavors like peppermint, gingerbread, and cinnamon are finally making their way back into stores. You know that also means you'll soon be seeing eggnog making its epic comeback. Eggnog is creamy and delicious, and I absolutely love it. Even if you're not a big eggnog drinker, you can't deny that it instantly reminds you that Santa Claus is coming to town. It's a great drink to have straight up with some holiday spirits, but there are also some holiday-inspired things to cook with eggnog that are just as delicious.
You'll definitely be having sugar plum fairies dancing in your head with all of these sweet recipes. Why not have your friends over for a eggnog party? You can serve all things eggnog, from pancakes, to cheesecake, to ice cream. If you're not a fan of just eggnog, there's no denying you'll love one of these nine recipes with eggnog in them. You even have everything you need for an eggnog-themed breakfast on Christmas morning. You can also leave Santa an eggnog-flavored treat instead of your traditional sugar cookies this year.
All I know is I have to run to the store to stock up on all of the eggnog possible, because I'm so eggcited to try out every single one of these recipes.