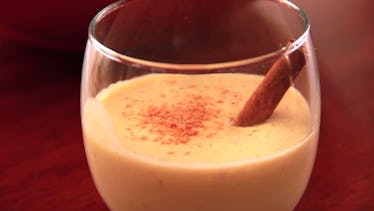 8 Boozy Eggnog Recipes For The Girl Who Can Never Get Enough Holiday Cheer
The holiday season is finally here, which means we can put on our coziest sweaters and boots, hang up all of the festive decorations, and make ourselves a delicious batch of boozy eggnog. It's truly a special treat we whip up once a year. You just know it's eggnog time when the weather starts to get cold, and we hear jingle bells ringing basically everywhere. As someone who cannot get enough of the holiday cheer, I know how important it is to find some really amazing boozy eggnog recipes to have readily available.
You'll most likely want to serve up boozy eggnog for any party you host this season, or even just to enjoy on a night in watching holiday flicks. No matter what the occasion is, we want to take advantage of this jolly time of year by drinking as much eggnog as we can, so go ahead and try out a variety of these tutorials. There are eggnog recipes with rum, whiskey, and even bourbon. Basically, you can add your favorite alcohol to your favorite holiday drink, and even Santa would be proud.
Here are eight boozy eggnog recipes you can experiment with to find your favorite mix. Cheers to a very merry holiday season.