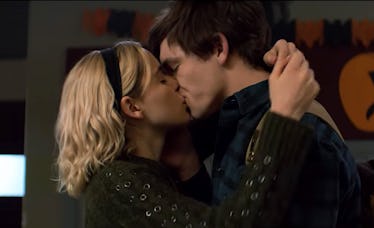 6 Fall TV Shows Perfect For Netflix & Chill Marathons During Cuffing Season
Netflix
Cuffing season is in full swing, and what a magical time of year it really is. If you've been wanting to ask your crush to come over for some cozy Netflix-and-chilling, you should definitely hit them up! It's a great time to do so, not only because the days are getting shorter and there's more night time to sit back and watch a good show with a crush, but also because there are some pretty fantastic fall 2018 TV shows on Netflix right now. The streaming service's new shows range from a fascinating travel-based cooking series, to a psychological thriller starring the cast of Superbad, and so much more.
Cuffing season is a great time to bring back a classic Netflix-and-chill date night because as the weather gets colder, you have an excuse to cuddle up with your crush. Plus, it can be a great way to save money if you make food together and settle in to watch something at home. Starting a new TV show together is also a great idea because you have an excuse to ask your crush to hang out again. Once you start a show together, you're kind of in an unspoken bond — what kind of monster watches a show without their partner in crime? OK, maybe the stakes aren't that high, but it's worth a try.
And, since they're on Netflix, if you get distracted doing, uh, other things with your crush, you can always catch back up on what you missed later.