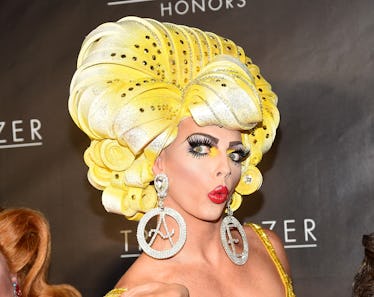 'RuPaul's Drag Race' Star Alyssa Edwards Serves Up Some Queen-Worthy Dating Advice
Gary Gershoff/Getty Images Entertainment/Getty Images
Three of my favorite things in the world are my cat, equality, and RuPaul's Drag Race, so you can imagine how thrilled I was to chat with the Alyssa Edwards (also known as Justin Johnson) about all things dating, drag, and drama. Drag queens are so fascinating to me — they're a mercurial blend of confidence, beauty and humor, so naturally I wanted to mine Edwards' brain for advice about dating. And she delivered! I particularly love this Alyssa Edwards' quote about drag and dating: "I don't think finding success in the drag world helped [my dating life], I think I just had to get to a place where I felt comfortable with the man in the mirror," she tells Elite Daily. "I knew I had to have a healthy, happy balance in life."
While becoming a famous drag queen might not have directly translated to success in dating, drag itself has greatly affected Edwards. "Drag empowered me so much because every insecurity, every doubt went away when I put that wig on. It's much like the story of The Wizard of Oz. Dorothy, you know, it took the man behind the curtain to tell her that she always had the power, and that's kind of like what drag did for me." With the confidence drag gave Edwards, she felt grounded in herself and in her life, which helped create the work/life balance she was striving for.
Edwards is now in a loving relationship with her boyfriend, dance instructor Manny Silveyra, but her dating life wasn't always a priority. She says, "I was just so focused on my career and I was like, 'I don't have time to date.'" While many of us try to find a balance between work and relationships, Edwards says, "I think it sounds cliché, but I think there was a time where I just didn't see this for myself. I just didn't. Then Cupid shot me with this arrow in the heart! He's definitely the missing puzzle piece." (Swoon!)
So how did a career-oriented dancing queen decide to settle down into a relationship? "I knew [on] date one that I would want to pursue something with Manny, I knew. We just started talking about dance, our students, we started talking about just the energy we created and it just worked. It was like boom, boom, boom, and here we are one year later." Edwards acknowledges that an instant connection doesn't always happen and confesses, "I'm a very shy person and socially awkward. But just because there's not the instant 'I do' feeling, don't give up on something so quickly." Edwards believes shared interests and passion are key to her relationship's solid foundation. "Our lives are so aligned, we both love working with children, there's so much depth, so I'm very lucky that I have really this, like, multi-layered, faceted life that's all of full of love." (Again — swoon!)
Edwards has one main piece of dating advice and that is to be yourself. "Be your authentic, genuine self. No filters. Be honest, transparent, be considerate of someone's feelings, like those old life lessons- treat that someone the way you want to be treated. If you're feeling a certain way, share that feeling." That sort of honesty and openness will let you know if you connect with someone. She's also very drawn to people on dates who are kind, who look you in the eyes, who are upfront and honest.
Edwards teaches full time at her studio, Beyond Belief Dance, stars in Netflix's docu-series Dancing Queen which was released earlier this month, and will also be appearing as a counselor for Camp TAZO, which is a quarterly, first-of-its-kind immersive camp experience in Austin, Texas, for adults who want to break out of their routines, embrace the unexpected, and try something new. As a performer and a self-professed shy person, Edwards understands the importance of trying new things. "Most people want to get out of their comfort zones, they just don't know how. Maybe that's by exploring, trying something that's not a part of their normal dating activities or lives. Sometimes you have to step outside your comfort zone to discover and rediscover something about yourself."
Clearly, we can all learn something from Edwards' brave and honest approach to dating and relationships and massive work-ethic. Not only does Edwards inspire me and countless other fans to be bold, she also inspires her students and future campers to be their authentic selves, try new things, and, last but not least, look gorgeous while doing so.
Check out the "Best of Elite Daily" stream in the Bustle App for more stories just like this!