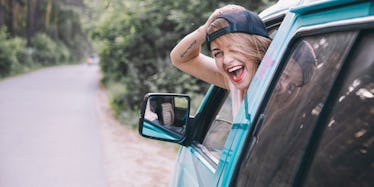 On Fake Lashes And Wigs: What Drag Queens Can Teach Women About Beauty
Stocksy
Beauty done well is practically an art form. If skillful makeup artists are the Vincent Van Goghs of the cosmetic world -- classic and refined -- drag queens would be the eccentric, splashy, rule-challenging Warhols.
Somewhere between convincing individual false eyelashes to stay put on your lash line and sticking a piece of tape to your eye to draw sharp cat eyes, there's a drag queen who's done it before -- bolder and better.
Drag is everywhere; you just have to look for it.
The glamorous practice of men creating larger-than-life female characters and cross-dressing to fit the part is responsible for many of the trends women enjoy today -- and if those contoured faces and bold eyebrows seem familiar, it's because you've probably seen them on drag queens first.
Under the loud wigs and just above the glittering costumes lies an impeccable dedication to finding the the right shade of lipstick and drawing on precisely-angled eyebrows.
Anyone who's ever viewed "RuPaul's Drag Race" or attended a drag show can attest to that.
Many of us struggle to daub on lip stain correctly, let alone create an entirely new face. But for many drag queens, their iconic looks are a result of constant adaptation.
Elite Daily spoke to Wigstock founder Lady Bunny and "the Queen of Green," Hedda Lettuce, about their beauty routines, asking what it takes to be a woman in the complicated world of cosmetics.
You don't need to buy the most expensive product.
Sure, Sephora's Beauty Insider program gives excellent bonuses, but sometimes spending $50 on one product just isn't worthwhile.
Lady Bunny - née Jon Ingle – always checks the drugstore first, relying on staple products like Maybelline's liquid eyeliner and Revlon lipstick, which she's purchased for 25 years. Anything else has to come from professional makeup supplier Alcone.
Hedda Lettuce, otherwise known as actor Steven Polito, is quick to back the importance of budget purchases.
She said,
Mixing cheap with the expensive basically describes my entire look.
Trendy colors are for people who don't know their own skin.
Both queens shared horror stories of their early days on the drag scene – the mid-90s for Hedda Lettuce and early 80s in Lady Bunny's case. As it turns out, the colors popular in cosmetics aren't always suited to your exact face.
And it isn't just a man-posing-as-a-woman's problem; it's a woman's plight, too. Remember the time your bronzer made you more orange than a prison jumpsuit? Yeah, we've all been there, and it's oddly comforting knowing men struggle, too.
Lady Bunny remembers being struck by the way thin lips and dark colors made her look more like a "razor-lipped snapping turtle" than a diva. Instead, she sticks to coral shades and liquid eyeliner, naming the 1960s as a key inspiration.
Hedda Lettuce, too, felt the pull of color in her routine. In this case, it was the iconic green wig that brought her character together. She says she can't even imagine performing without verdant hair at this point.
Moral of the story? If you're going to go there -- go all the way and own it. No regrets.
A perfect face takes years of practice.
Ever wanted to perfect contouring or eyeshadow application and found it's too time-consuming to be practical?
The good news is this stage only lasts until you really get the technique down. Bad news? You'll likely spend a ton of time getting there.
Hedda Lettuce's look, for example, once took her about two hours. Two decades later, she's got it down to 45 minutes.
Lady Bunny's face only takes 25 minutes to put together, but she added that she's "never been that great with makeup."
Lady Bunny said,
If it's for a photo or video shoot I'll spend more time to try and perfect it, but I'm never going to be one of those fussy people who blends and blends for hours with graduating colors of shadow.
Fair enough, especially for someone who's already tasked with creating a woman's face out of a man's.
If you're only putting on one product, make it lip gloss.
Yeah, we know: Every article you read these days promises to simplify your morning routine and touts the "only must-use product" you need to grab before you rush out the door.
But if you're late to work and there's only one item to grab, both queens swear by tinted lip glosses. (Bet you weren't expecting that advice, huh?)
Lady Bunny relies on warm shades, which create the illusion of white teeth while making you look easily put together.
More time than you realized?
In this case, both queens will reach for a pair of false lashes to open up their features. In your case, a mascara wand will do the trick.