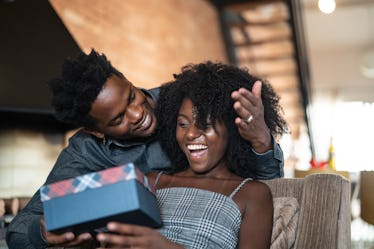 These 20 Gift Ideas For Taurus Partners Are Thoughtful & Bull Of Love
FG Trade/E+/Getty Images
If you're lucky enough to have a Taurus in your life, then you know this zodiac sign is bursting with endless creativity, a passion for the world around them, and a deep loyalty to the ones they love. Since you're constantly inspired by their style and authenticity, you want to make sure all your gifts for your Taurus partner match their unique flair.
To really toast to Taureans, you'll need gifts that speak to their senses. Taurus is a sign ruled by Venus, the planet of love and beauty, which means they'll adore gifts that pamper them and products they can add to their already masterful self-care routine — but don't think they're only glitz and glam. Taurus is of the element earth as well as a fixed zodiac sign, so practicality is a must. The perfect gifts for a Taurus are a combination of lavish and useful. Bonus points are also awarded for anything soft, fluffy, full of succulents, or could otherwise help ensure their home stays as serene as they are.
The criteria may sound intimidating, but it doesn't have to be. These gift ideas for your Taurus SO will make sure you tick all the boxes. Just think, when your Taurus partner opens up their present to find a gift that perfectly captures their personality, they'll know your relationship was written in the stars.
We only include products that have been independently selected by Elite Daily's editorial team. However, we may receive a portion of sales if you purchase a product through a link in this article.