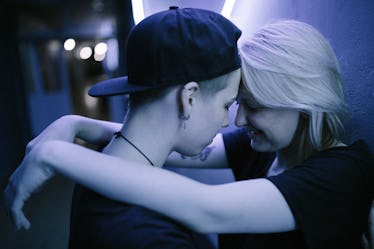 16 Texts To Send Your Partner That'll Get You Both Hot & Bothered
So, you're feeling horny on main, meaning you are absolutely and without a doubt DTF and you don't care who knows it. Whether you're trying to seduce your partner of a few years when they come home after work, or a FWB you're "hanging out" with later, you can tease your partner by keeping some texts to send when you're horny on hand. Sending sexy texts to an SO can be the same kind of exhilarating as dirty-talking in bed, and putting a name to the sexy, devious things you want to do to them (and vice-versa) so shamelessly can be a huge turn-on.
Just like there are lots of different ways to talk dirty, there are also several types of dirty messages you can send. You can be subtle, if you're shy but still horny (or your partner is shy when it comes to dirty talk). You can send them messages that will set a sexy tone and let them know exactly what kind of night they're in for. And finally, you can be bold, up the ante, and let them know they've made you so horny, you just can't stand it. Below, 16 horny texts to send your partner that will make their anticipation for tonight so much stronger, and the moment when you do finally meet up, so much more delicious.