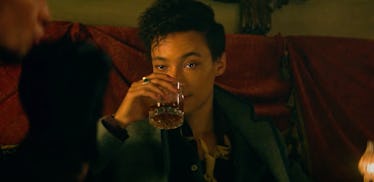 15 Cocktail Recipes Inspired By Netflix Faves Like 'Bridgerton' & 'Shadow And Bone'
The perfect Friday night at home plans consist of finding a cozy spot on the couch, turning on your fave Netflix show, and simply chilling. The only thing that would make your night even better is if you had a delicious cocktail to match whatever show you're watching. Luckily, there are plenty of Netflix-inspired cocktail recipes out there that are easy to make and incredibly sip-worthy.
Are you about to go in for a rewatch of Netflix's new hit series Shadow and Bone? Well, make yourself a Mal-inspired drink (if you're 21 and up) to enjoy as you sip your way through the Grishaverse. Or maybe you want something worthy of a queen. There are sophisticated concoctions for sipping on while watching The Crown or Bridgerton. There's even a The Queen's Gambit drink that's definitely the right move to make before rewatching the miniseries. All you need to do is find the right Netflix-inspired cocktail recipe to make for whatever show is on the schedule.
You could even plan a super cute roomie night where you marathon a few episodes of your latest obsession with your fave people. Put together a tasty charcuterie board of snacks to go along with your Netflix-inspired drinks, and you'll be set to keep watching all night long.