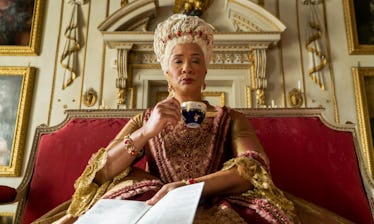 These TikToks Show How To Set Up Afternoon Tea & Feel Like You're In 'Bridgerton'
Netflix
Since watching Netflix's Bridgerton, you've likely asked your housemates if they want to have afternoon tea a thousand times. You just want to feel like a cast member in the romantic, Shondaland-produced series, and spend an hour of your day snacking on scones and finger sandwiches. Convince the crew to have a lavish afternoon with you by showing them one of these afternoon tea TikToks.
These afternoon tea TikToks will inspire you and your housemates to lay out a tablecloth, bake a bunch of teatime treats, and start a new tradition right at home. After you pour tea from your very own floral teapot, you'll be hooked and gather in your kitchen for tea time every day to gossip and recite the very best quotes from Queen Charlotte. You may even decide to Zoom with another group of friends who's doing the same in their home, and take photos of your teacups raised in the air.
Truth be told, afternoon tea can truly be an Instagram-worthy moment — especially if you print out fake copies of Lady Whistledown's paper or serve your drinks on a silver platter. Be sure to gather up fancy napkins, layered snack trays, and your housemates to recreate some of the best afternoon tea TikToks at home for a Bridgerton-inspired day.