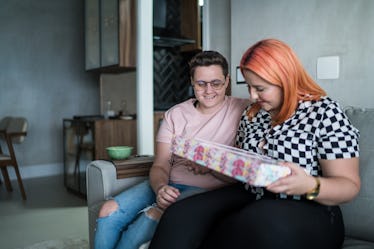 These Gifts For Your Aries Partner Will Make Their Day So Much Brighter
Whether it's Aries season or not, you want to shower your bae with all the love. You want them to know how special they are, and how their positive attitude, go-getter personality, and incredible passion for life inspires you daily. Of course, giving them the perfect gift can show your appreciation and affection, but it can be hard to find gifts for your Aries partner that are as out of this world as their zodiac sign.
Don't stress over what to get your fire sign. There are tons of adorable, clever, and unique products out there such as smart fitness equipment and edgy sunglasses. You can also find personalized jewelry or posters for your SO on Etsy. Trendy retailers such as Urban Outfitters have no shortage of home decor pieces like sun-soaked mirrors, while H&M will hook you up with comfortable footwear your partner will wear every day. Finding the perfect gifts for your Aries partner will actually be a breeze, especially once you find the connections each of these gifts has to their zodiac sign.
An Aries is known for being determined like the ram and radiant like the sun. They're ruled by the deep-red planet of Mars, and push through life like a raging fire. You'll likely have a hard time not adding all of the gifts below to your cart, but know this: Whatever items you choose will likely make your Aries partner's special day so much brighter.
We only include products that have been independently selected by Elite Daily's editorial team. However, we may receive a portion of sales if you purchase a product through a link in this article.