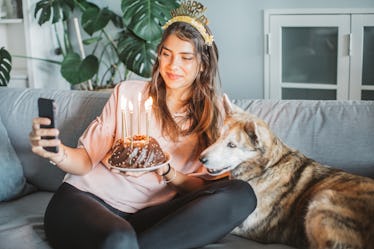 These At-Home Birthday Ideas For Aries Are Straight Fire
svetikd/E+/Getty Images
You love to be noticed, Aries, which means a fiery sign like yours deserves more than just one day of celebrating your birthday. Although IRL you can't party it up every moment of the month, you can definitely try to keep the birthday vibes alive by sprinkling several of these festivities that revolve around your bold sign throughout your zodiac season. Since you're never one to shy away from the spotlight, consider these at-home birthday ideas for Aries, and you'll surely attract all the attention your sun sign commands from everyone who wants to join in on the fun.
Get the party started strong like the ram you are with Aries-centric birthday activities, tailored to your competitive, passionate, energetic, and a tad impulsive personality. Shine bright like a star within your social circle by planning a virtual game and cocktails night with your besties. Or, feed your thirst for passion by indulging in a romantic, candlelit evening in a Himalayan salt bath, right in your own tub with your partner. Do it up with plush robes, bath towels, and maybe even massage oils for a post-soaking treat.
All you have to do is put your awesome organizational skills to work when choosing your plans, and gear up to celebrate all of your kick-ass traits. Then, put on your party hat and take centerstage with any of these at-home birthday ideas that are straight fire — like you are. After all, nobody puts an Aries in the corner.