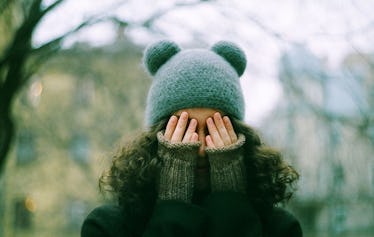 11 Times You Relate To The Grinch This Time Of Year, Even Though You Love The Holidays
As much as you're ready to put on a cozy holiday sweater, you go into the season feeling overwhelmed about shopping, putting up decorations, and wrapping presents. You might catch yourself dropping lines from How the Grinch Stole Christmas like, "Hate, hate, hate. Double hate. Loathe entirely," about the parking situation at the mall. Yes, over the years, you've come to really understand that furry green character from the famous Dr. Seuss story. You rewatch your favorite scenes, and think about all the times you relate to the Grinch this time of the year.
Secretly, you love the holidays, but let's not talk about that right now. Let's leave behind the pure joy you get from the aroma of Christmas cookies and hanging up ornaments, for the things that make you say, "Ugh!" You know, the crowds of shoppers who always seem to be in your way. Can you just go home and snuggle up with your pup now?
Instead, the Whos in your life encourage you to be festive 24/7, and invite you to more holiday parties than you can fit on your calendar. Don't they know you have jazzercise at 4 p.m., and dinner with yourself right after? Let's be honest: These 11 things are all too relatable for you and the Grinch.