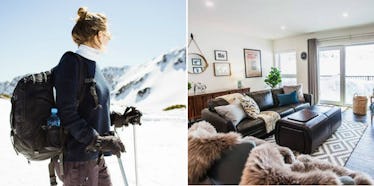 The 10 Most Popular Ski Destinations In North America Have Been Revealed, So Gear Up
See you on the slopes! Well, maybe. You'll be zipping down the black diamond trails, holding your poles back, and cutting through the wind. On the other side of the mountain will be me, scooting down the bunny trails and riding the chair lift over and over again. The instructor will have to teach me how to fall, and do that pizza move with my skis. From where you are, you may hear me say, "Sorry! I'm new here." Truth is, you're a pro and have been at this sport for quite some time. So, you may be happy to know that these are the 10 most popular ski destinations in North America, according to Airbnb. Just grab your gear and then let's go.
As far as you're concerned, fall is over. You're saying your sweet goodbyes to the crunchy leaves, and overexcited hellos to the chilly weather. The stores have started to put out their holiday decorations, and you're in the mood to do all the winter things. You pulled out your sweaters and ski goggles months ago, hoping for an early storm. (Did the universe deliver?) Either way, the entire season is ahead of you, and your besties have already dubbed you with the title "snow queen."
Now, the only thing you need to do is start putting some plans in place. The top 10 ski destinations in North America have been revealed by Airbnb, so you can choose your snowy destination with ease. Don't miss out on these mountains, OK?
What are the 10 most popular ski destinations in North America?
The 10 most popular ski destinations in North America will feel like your very own version of paradise. (For some, "paradise" is palm trees and sunny days spent by the sea. But for you, it's basically anywhere you can buy a lift pass.) You're going to be able to ski all day long, and then snuggle up with your best friends or significant other with a warm mug of hot chocolate. (Sign me up, please! Well, for the marshmallows and then put me down for some ski lessons, too.)
According to Airbnb, these destinations include: Big Sky, Montana; Bozeman, Montana; Kamloops, British Colombia; Collingwood, Ontario; Boise, Idaho; Colorado Springs, Colorado; Revelstoke, British Colombia; Mount Hood Village, Oregon; Stowe, Vermont; and Girdwood, Alaska. Did you get all of that for your bucket list? Sweet!
These results were based on data concerning the future bookings on Airbnb in these places, for the time period of Nov. 2018 to March 2019. This was then compared to the same data for the same time period last year. Long story short: These destinations have become really popular within the past year for skiing, and there are cozy places to stay in every single one of them. Your paradise is just sitting on the other side of the purchase button!
Why should Big Sky, Montana be the first destination on your bucket list?
The list revealed that Big Sky, Montana is actually the most popular destination for skiing right now. So, it should be the first destination on your bucket list for this upcoming season. Simply round up a few friends or family members, and make a plan to hit the slopes. Even just a weekend in the great outdoors can do you a lot of good.
The Moonlight Basin community, in particular, is worth checking out. This area has recently opened a new lift on Lone Mountain, and has several Airbnbs listed that are cozy AF. You and your besties could stay in a lakeside cabin that has a private hot tub, or snuggle up by a fire at the Moonlight Lodge and Tavern. (Seriously, just thinking about it is making me excited for the winter months. *Cue the squeals!*)
Aside from accommodations, the Moonlight Basin community in Big Sky has a lot of recreation. At Ulery's Lake, you can find snowshoe and skiing trails, and pack your skates for the outdoor ice rink. It's the winter adventure of a lifetime, and worth making some room on your bucket list.
What should you pack for this epic skiing adventure?
So, other than your gear, what should you bring along for this sort of trip? Well, first things first: marshmallows and hot chocolate. The perk of staying in an Airbnb is that — more often than not — you have access to a kitchen. This is convenient for when you want to cook your own meals instead of eating out, or brew up some hot drinks at the end of the day. Pack some mugs, or a few tea bags and then hit the road. (After all, being cozy requires cups of some sweet stuff.)
Next, be sure to pack an extra pair of gloves, lots of knitted socks, and warm snow boots. A fuzzy blanket is always a good idea, and a polaroid camera, too. That way, whether you're on the slopes or hanging in the lodge after tackling that black diamond trail, you can document this trip for years to come. OK, seriously though — can somebody teach me how to ski? Please and thank you.