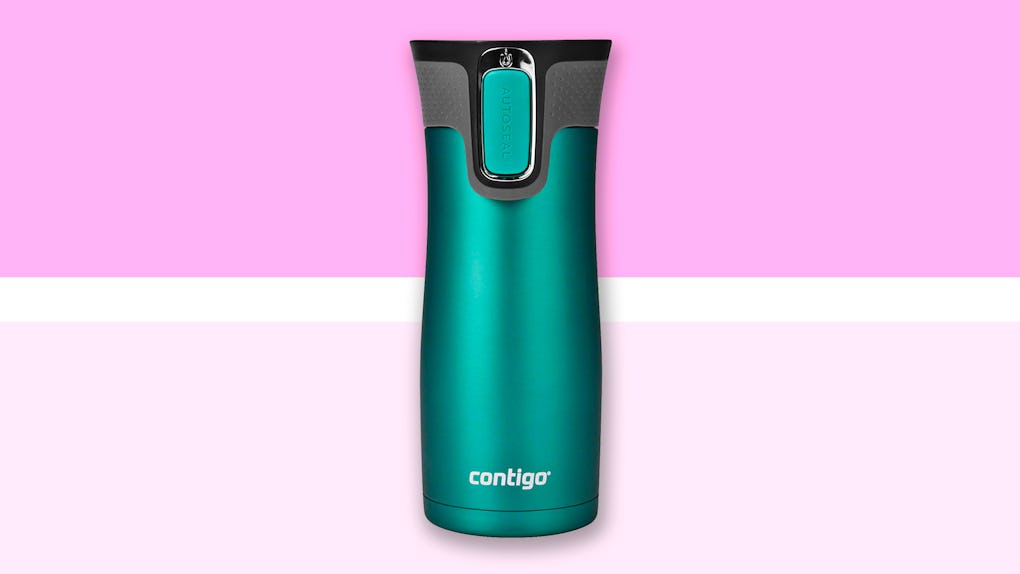 Amazon/Elite Daily
The 3 Travel Mugs That Keep Coffee Hot The Longest
Having a steaming hot drink on-hand can make mornings feel a little more bearable, but buying a $5 coffee every day quickly adds up. Luckily, if you know where to find the travel mugs that keep coffee hot the longest, you can have the best of both worlds — a much healthier bank account and a cup of joe that stays hot for hours.
When choosing a travel mug that will keep your coffee hot all throughout the morning (and even into the afternoon), you'll want to look for two main features. First, make sure your mug features vacuum-insulation technology. This basically means the air is removed between the metal layers of your mug, so your coffee can't transfer heat to any cooler air surrounding it. The other key feature has to do with the lid of your mug. Ideally, you'll want an automatic lid-locking system that can close in-between sips at the touch of a button. With this design, not only will your coffee be easy to sip on-the-go, but it will also stay hotter for longer.
There's also something you can do on your own to prolong that steaming hot temperature: before pouring the coffee, quickly rinse your travel mug in hot water. This will warm the entire bottle and prevent the coffee from transferring too much heat, and thus, cooling the coffee down.
Below, you'll find a list of the best travel mugs to keep coffee hot from early morning until that afternoon slump and beyond.
1. The Overall Best Travel Mug For Keeping Coffee Hot
Keeps drinks hot for: Up to 12 hours
Size: 16 ounces
Thanks to its double-wall vacuum-insulated design, this travel mug from TOMIC can keep drinks hot for up to 12 hours (or cold for up to 24 hours). This mug features a non-stick surface that prevents stains on the interior wall. It's also BPA-free, made from eco-friendly materials, and features a narrow design that allows it to fit in car cup holders and exterior backpack or workbag pockets. The lid-locking system opens at the push of a button, which means that in addition to not having to worry about spills or leaks, your coffee will better retain its temperature. And with a rust- and mold-resistant construction, as well as a fingerprint-resistant exterior, this mug will stay looking brand new no matter how often you use it.
2. The Largest Travel Mug For Keeping Coffee Hot
Keeps drinks hot for: Up to eight hours
Size: 30 ounces
If your daily needs not only require long-lasting hot coffee but lots of it, this large travel mug should do the trick. Like the others on this list, it features double-wall vacuum-insulated technology that will keep your drinks "scalding hot" for up to eight hours, and cold for up to 24 hours. It also has a sweat-free design that prevents condensation or temperature changes on the outside of the mug, so you don't have to worry about burning your hands or leaving a ring of water behind. And more importantly, this mug can fit up to 30 ounces of liquid while still being easy to travel with. It's cleverly designed to be narrow-bottomed so that it can fit in most car cup holders and bag pockets. Finally, this stainless steel mug is also easy to clean, thanks to a large-mouth design. And if you're not satisfied with your mug for any reason, you can receive a full refund with no questions asked.
3. The Most Popular Travel Mug For Keeping Coffee Hot
Keeps drinks hot for: Up to five hours
Size: 16, 20, or 24 ounces
This wildly popular travel mug from Contigo has almost 19,000 reviews for a reason. First of all, like the TOMIC mug, it utilizes vacuum insulation technology that keeps drinks hot for up to five hours or cold for up to 12. This sleek mug is available in three different sizes and 20 colors. While the body does need to be hand-washed, the lid is dishwasher-safe if you put it in the top rack. Perhaps best of all, the AUTOSEAL technology means you can drink one-handed when you're on the go, without worrying about spills. Ranked as the number one best-seller in travel mugs on Amazon, reviewers have called this "the best coffee mug I have ever owned" and one of "the great loves in my life."
Elite Daily may receive a portion of sales from products purchased from this article, which was created independently from Elite Daily's editorial and sales departments.