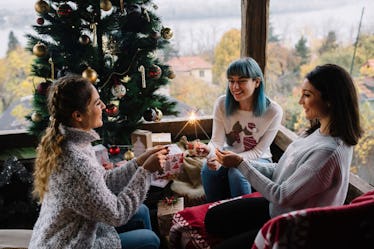 28 Captions For Tree Lighting Pics In Your Town That'll Make Your Insta Sparkle
Cue Michael Bublé: "Santa Claus is coming to town." That means you have to start baking all of those delicious holiday cookies and putting up your decorations ASAP! You have to unbox the ornaments that have been sitting in your closet since last year, and give each of them a branch to hang on. You need to gather up your girls, get a gift exchange on the calendar, and remind each other what you're most thankful for. And at the end of the day, cups of hot chocolate with marshmallows and snuggling up by the fireplace are in order. Last but not least, captions for tree lighting pics in your town are #necessary — especially for an Instagram feed that's truly lit.
Seeing that giant tree covered in colorful lights in your town's center is just the start of your festivities. More often than not, your town holds this event early on in the season to get everyone in the right #mood. As soon as Thanksgiving is over, they bring out the beloved evergreen and put it in its usual place. They start wrapping ribbons and bows around the lamp posts, and sometimes add some new displays.
The shops and restaurants get in the spirit of things, too, with wreaths on their windows and cute snowmen sitting at the front door. It's like your entire town turns into one those Christmas villages your mom sets up in the living room. (You know exactly what I'm talking about, right?)
Together, you and your besties wander downtown the night of the big lighting with cups of hot cocoa in hand. You bring a blanket and a couple of disposable cameras to snuggle up and take the coziest pictures. In the middle of your photo shoot, you might run into people from high school and the family members you usually only see around this time of the year. It's nice catching up, but then you get back to grabbing some candids for the 'Gram.
When all is said and done, you're feeling so merry and bright. But, you're also in desperate need of a few words for your feed. Don't get your tinsel in a tangle trying to figure something out, because I've gathered 28 captions for your tree lighting pics that will be perfect for the occasion.
1. "My favorite color is evergreen."
2. "It's starting to feel a lot like Christmas."
3. "This is my happy place."
4. "Sweater weather and being merry together."
5. "Hello, December."
6. "The only thing getting lit this weekend is my town's Christmas tree."
7. "Don't get your tinsel in a tangle."
8. "Always jingle all the way."
9. "This is as merry as we get."
10. "May you never be too grown up to search the skies on Christmas Eve."
11. "It's not what's under the tree that matters, it's who's gathered around it."
12. "The best way to spread Christmas cheer is singing loud for all to hear." — Buddy the Elf, Elf
13. "Baby, it's cold outside." — Dean Martin, "Baby, It's Cold Outside"
14. "The magic of Christmas comes when you light the tree."
15. "It's not Christmas without cookies and the lighting of the town tree."
16. "Nobody's walking out on this fun, old-fashioned family Christmas." — Clark Griswold, National Lampoon's Christmas Vacation
17. "City sidewalks, busy sidewalks dressed is holiday style." — Andy Williams, "Silver Bells"
18. "That Christmas tree stole my look! Merry and bright."
19. "Warm winter wishes."
20. "Having a tree-mendous time."
21. "Will you merry me?"
22. "No Grinches live here."
23. "Christmas isn't a season. It's a feeling." — Edna Ferber
24. "'Tis the season to be freezing and festive with the town."
25. "They told me be good, or they will text Santa."
26. "Santa stop here."
27. "All is calm, all is bright." — Bing Crosby, "Silent Night"
28. "C'est noel."
Do you hear that? I think it's the jingle bells on Santa's sleigh! Maybe it's the notifications on your phone going off, because you're scoring tons of likes. (You know what, that sounds about right.)
You got the perfect picture with your besties at the Christmas tree lighting, and added one of these captions, too. You all had your mittens up in the air, with the tree looking big and beautiful in the background. And so, it's no surprise that your followers totally fell in love with the whole scene.
Truth be told, most of us just love a good 'Gram around the holidays. It reminds us that this is such a one-of-a-kind time of the year — when you can spend time with family and friends and watch your favorite, festive movies over and over again, no questions asked. Next time, invite me when you're baking cookies though, OK? We'll consider it a "thank you."