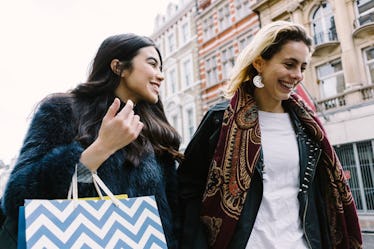 2018's Best Gift Cards For Your Bestie Are Here & The Top Pick Will Make Her Nostalgic
Sleigh bells and shopping trips are on their way. Can't you hear the registers ringing? Sure, you're sort of required to eat some mashed potatoes at your family's turkey dinner first, but then you're planning on hitting up all the sales and getting started on your holiday gifts. You're going to roam around the stores and look at cute oversized sweaters for your mom and hot chocolate mugs for your best friend. Those sort of presents always go over well, and you've learned you can also never go wrong with a gift card. According to WalletHub, these are 2018's best gift cards, and let me tell you: The top pick is nostalgic AF.
When it comes to presents and gift cards, you love picking out just the right one. You have a note in your phone with ideas you collect throughout the year, and when the holidays roll around, you're good to go. There was that one time when you were out shopping in the middle of the summer, and your best friend mentioned that she loved that bracelet on the counter, or really wanted to waffle maker. You quickly wrote it down, and now you're going back to snag those items and make some dreams come true.
You can picture her face when she opens up that package and sees that you remembered her love for breakfast foods, or got her a gift card to her favorite store. Naturally, she squeals with excitement and gives you a big hug. Sweet! Another solid present in the books. OK, but what gift cards are the best for this year? Well, scan the list before you start shopping — because the top pick is a walk down Nostalgia Lane and totally unexpected.
What are the best gifts cards to get your bestie in 2018?
WalletHub, the personal-finance website, revealed that 30 percent of people want a gift card this holiday season. They'd rather unwrap that bow and see that they can pick out something on their own. These friends and family members of yours are also hoping that gift card is from one of a few places. Any ideas?
*Drumroll, please.* The best gifts cards to get your bestie this year come from: Disney, iTunes, Visa, Target, and Sephora. That's right — "The Happiest Place On Earth" topped the list, and you're already feeling a bit nostalgic. You can picture your bestie running into the store, looking at all the Minnie Mouse stuffed animals and Frozen collectibles. Oh, this is going to be good.
For as long as you can remember, she's been a huge fan of everything Disney. She dressed up as the princesses for Halloween when you were kids, and takes trips to the parks as much as possible. Magic Kingdom is her favorite. Although, she loves to roam around the countries and eat endless food in Epcot. Recently, she's been raving about the holiday churros that are nothing short of #magical.
Long story short: This is the perfect gift card for her. Next to the latest makeup products, or home goods from Target that also made the list, you can't think of anything better.
What are the most popular gift cards?
The most popular gift cards were also revealed in this study, and were slightly different in results. Our friends over at Disney didn't make this list. But, some of your bestie's favorite places to shop are still counted for.
According to WalletHub, the most popular gift cards include: Amazon, Visa, Walmart, American Express, and iTunes. The top pick on this list is Amazon. Personally, this doesn't come to much of a surprise. (Does anyone else get a package from there like every other week? Girl, same) Despite the lack of "wow" factor in the results, though, your bestie will still be surprised and grateful when she opens this gift.
She can finally grab that book she's been dying to read during winter break, or a new pair of headphones for the gym. Every true traveler needs a reusable water bottle, or some sort of camera gear to get them through their next trip. The options are endless, and it gives her the chance to pick up items that you may not have known about.
What are some of WalletHub's tips for buying gift cards?
Along with the best gift cards to get this year, WalletHub revealed some of its best tips for when you're shopping for your bestie. They want to make sure you get the most bang for your buck, and know what to expect.
First things first: WalletHub suggested that you take discounts into consideration. Right now, you may not consider them actual merchandise with quality options for sales or coupons. That's not entirely true, and some of the best gift cards out there can be purchased for less.
You may also want to think about buying a gift card that's linked to a rewards program. For example, some banks will let you rack up points that come back to you in cash. This can be applied to gift cards — and just like that, you're giving a gift that keeps on giving.
Last but not least, don't forget about E-gift cards and the cash option. Sometimes, you grab that credit at Disney or Sephora because you're shopping at the last-minute. Work or your latest semester at school was busy, and you didn't have time to pick out something extra thoughtful. Don't fret, and continue to shop smart.
Avoid getting a physical gift card shipped to your house, or going to the store and picking one up, by getting an E-gift card. This way, your bestie still gets her token to shop at the most magical store on Earth — and you save some money and time, too.
What could you put with a gift card to spice up your bestie's gift?
Sometimes, getting just a gift card doesn't feel like enough. You want your present to look like cinnamon spice and everything nice! It's the day before you're supposed to exchange your gifts at a holiday party, and you're frantically scrolling through Pinterest for creative ideas. Let me help you out, OK?
Picture this: A cute winter-inspired mug filled with gift cards to your bestie's favorite stores, paired with a pack of marshmallows, makes for a sweet gift. A cozy blanket scarf with a gift card attached to the tag, and a few chocolate kisses in the bottom of the bag, will surely put a smile on your BFF's face. A Disney movie, bag of popcorn, and gift card to pick up some memorabilia from your bestie's favorite film will make her feel super nostalgic. Those are all some solid ideas that will surely make this season merry and bright!
Truth is, you don't have to break the bank in order to give your bestie something thoughtful. You just have to purchase items that make sense, and be smart when it comes to grabbing those gift cards. Now, you know exactly which ones to get this year, so there are really no excuses.