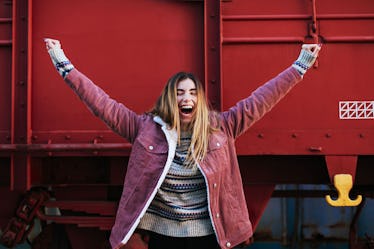 8 Little Ways To Make The Holiday Season Awesome When You're Alone
'Tis the season for mashed potatoes and twinkly lights everywhere. That's right: Halloween is over, and your boots and puffer jackets are out to play. Making plans to watch The Grinch and scoping out all of the Black Friday sales are necessary. This year, you might not be quite as excited for the festivities, though. Your besties are out of town, or you're the only one left on campus. (Who's going to exchange gifts and make cookies with you? Ugh.) When you're feeling alone for the holidays, don't fret, because there are little ways you can make the season very merry and bright.
Grab a packet of hot chocolate mix, pour hot water in a mug, and then sip on this: You're snuggled up in your apartment on a chilly afternoon. You have a pair of fuzzy socks and an oversized turtleneck on. Cozy might as well be your middle name. You reach for your phone to text your besties and realize that nobody is around. One is traveling, the other is in another state, and the last is your cousin who you won't see until the family party. You think to yourself, "Ice skating isn't going to happen today." The disappointment is very real. What do you do now?
Well, you keep your chin up! Your holiday season is going to be totally #awesome because of these eight little things that are totally merry and bright.