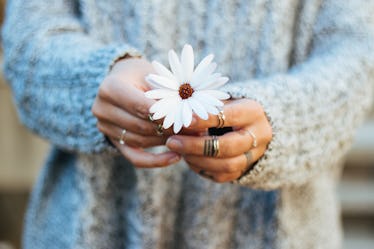 11 Minimalistic Tattoo Ideas, If You Want To Get Something Simple With Your BFF
Susana Ramírez/Stocksy
Friends who get tatted up together, stay together. Your bestie has made an unreal mark on your heart, so it's time to turn your friendship into some art. All of the memories and inside jokes have sealed you two as the perfect pair, and you don't plan on spending forever without her by your side. Growing up, you had matching necklaces and those bracelets that split a heart in two. You'd spend sleepovers coming up with cool handshakes, and sharing secrets and snacks. But you're 20-something now, and want to take "BFF" to the next level. These minimalistic tattoo ideas will inspire you two to get inked, and are so simple, too.
Maybe you've thought about becoming part of team tatted already, or are still getting comfortable with the idea. Tattoos are really just another form of art like a painting, song, or photograph — except you get to take them with you wherever you go. Finding the right artist for your piece is the hardest part. But if you're just getting something simple, it'll be a breeze — especially because your bestie will be there to hold your hand through it all.
Together, you're unstoppable — but you may also be so unsure of what tattoo will be best to show off your friendship spirit. Truth is, it doesn't take a full sleeve to show your love for your lady. These minimalistic tattoos will keep it simple, and really seal the deal.