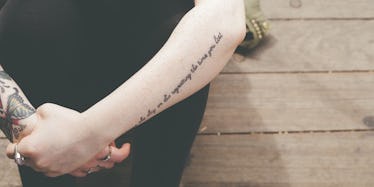 14 Tiny, Beautiful Tattoos That Are Perfect For The First Time You Get Inked
Annie Sprat/Pixabay
Getting your first tattoo is a rite of passage into adulthood for many.
Whether you've been waiting since you were a teenager, or since last week when you booked the appointment, getting inked is definitely worth all the hype and anticipation.
More often than not, a first tattoo is cause to be nerve-wracking as well.
Maybe you won't like it, maybe your family or friends won't like it, or maybe you just can't sit through the whole session.
Whatever your worries are, they won't matter by the end of the procedure. You'll have an incredible new addition to your body that you can be proud of forever.
A lot of people struggle with what to get for their first ink. Many end up starting with something small, but that doesn't narrow it down for those deciding between many tiny, beautiful tattoos.
If you're in need of some ink inspiration, look no further. Here are 14 small tattoo ideas for the first time you get inked.
1. Tiny themed tattoos for you and your squad.
2. Something symbolic of your love for travel.
3. A rose, because you are a being of pure beauty.
4. A permanent anklet, because why not?
5. Something using that mind-blowing watercolor technique.
6. A vitally important reminder.
7. Something matching with your BFF.
8. A little something so you never have to remember to wear earrings.
9. A little love note to yourself.
10. Something that will always brighten up your day.
11. A symbol of your faith.
12. A reminder of your favorite place.
13. A token of love to your furry friend.
14. The constellation of your zodiac sign, or of a favorite cluster of stars.