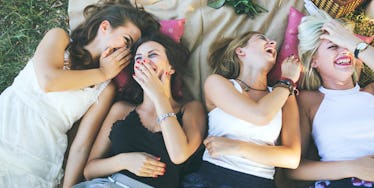 13 Tiny Tattoos To Get With Your Sorority Sisters To Seal Your Everlasting Bond
Jovana Rikalo
The beautiful bond you share with your sorority sisters is, undeniably, a magical one.
Once you wrap up senior year of college, you may long for something that will forever seal the friendship with your sisters, no matter where your post-grad plans may take you.
Getting a tiny, but extremely meaningful tattoo with your sorority sisters is the perfect place to start.
If you joined a sorority without having any sisters, your sorority ladies truly became your family. They made you feel right at home.
And if you went into Greek life with sisters of your own, you gained even more with your letters.
Being included in that sisterhood bond is a spectacular addition to your overall college experience.
With each passing year, you grow so much closer with these girls, and even gain a "Little" or two of your own. I'm a firm believer that having an incredible Big/Little match makes your Greek life memories all the more better.
Community service projects, weekend trips, and parties are so much more fun with the PB to your J right by your side.
If you're all about making your love for your main ladies permanent, here are 13 tattoo ideas to consider.
1. Matching compasses that will always guide you back to each other.
Small Compass Tattoo pic.twitter.com/GGnieeLVIs — adityas (@Adit_male) September 17, 2015
2. "Big" and "Little" written out someplace special.
3. Your sorority mascot.
Small penguin tattoo on Raquel Aso's calf.#littletattoos #tattoos http://t.co/xmY9shAT9k pic.twitter.com/xkp43IR2g5 — Little Tattoos (@little_tattoos) July 31, 2015
4. "Forever My Sister," or "Sisters" written out.
Still can't believe I got my first tattoo with my sister! She will forever be my heart ❤️ pic.twitter.com/FbI35LxVfT — Carley Davis (@Carleyydavis) July 27, 2016
5. Infinity signs, because your love is eternal.
Small ankle tattoo of a infinity heart on Rebecca Hallam. #smalltattoos #tattoos http://t.co/HzHwSkw6jO pic.twitter.com/iMVY4BMPbg — Small Tattoos (@smalltattooscom) September 9, 2015
6. The date of your Big Little reveal, so you'll always remember that incredible moment.
7. The name of your sorority, spelled out.
8. Your letters.
UTA Sorority ladies, which decal? White w/roses, black monogram, glitter letters, round seal? #utaaxo #utaddd #utadeltazeta #utazeta pic.twitter.com/ocqRB4ikue — Anything Goes 76013 (@AnythingGoesTX) March 10, 2017
9. Matching anchors, because you keep each other grounded.
20-small-anchor-rib-tattoo-for-girls - https://t.co/iUF5HzdGA6 pic.twitter.com/IVkOS9CSTr — We Know How to Do It (@how_do_it_com) June 20, 2017
10. Your family name.
11. A symbol that represents your family name.
By Evan Kim, done at West 4 Tattoo, Manhattan. https://t.co/vzLiIO9JZF pic.twitter.com/qfpwqGDRxJ — Small Tattoos (@smalltattooscom) June 22, 2017
12. Your sorority's flower, because your friendship has blossomed into something beautiful.
By Cagri Durmaz, done at Basic Ink, Istanbul. https://t.co/58dlbMeQmN pic.twitter.com/XYbo3GyMbw — Small Tattoos (@smalltattooscom) June 27, 2017
13. "All you need is love" written out.
By Cagri Durmaz, done at Basic Ink, Istanbul. https://t.co/pq5GoeGhhz pic.twitter.com/pFj5fC59Ju — Small Tattoos (@smalltattooscom) June 20, 2017
Give your bond the everlasting treatment it deserves, and get tatted up with your girlfriends.