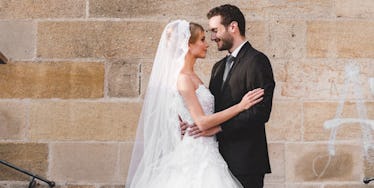 Sisters For Life: 30 Sorority Life Truths That Change Post-Graduation
My four years of sorority life were great; they were filled with endless movie nights, wine, an over-packed closet of cocktail dresses, way too many monogrammed items, frequent lazy afternoons and sisterhood bonding.
Besides all the fun within the sorority, there was the bond that grew out of the sisterhood.
You're all chosen to pledge based on your attributes, positive qualities, personality and overall character. And, each sister is likely similar to you, although each has her own career goals, academic habits and future plans.
When graduation rolls around, you'll think that the bond will continue and you'll stay in touch with your fellow pledge class sisters.
You'll organize frequent weekend trips to visit them and if you're lucky enough to live in the same town or near your alma mater, you may relive your college glory days by trekking to the downtown bars and watching the basketball games together.
But, your hopes at graduation and the post-sorority realities are skewed. Post-sorority life isn't what you thought it would be, but that doesn't mean it isn't fun; it's just different.
Enjoy your time in the sorority, but know that there are post-sorority realities that lay in wait:
1. The hangovers hurt more, but you'll appreciate going out together because you'll do it less often and cherish the time more.
2. Fewer people come each year to homecoming weekend, but those who do come tailgate even harder than they did in college.
3. You'll sign up for the alumni association, but end up hanging out only with those from your pledge class.
4. You're probably the only one in your office who was a member of your certain sorority, but you'll bond with other women who were in different sororities.
5. You'll try to keep up with your big sister, little sister and grand-little, but really, your bond will grow with just one of them.
6. You'll have an over-packed closet of preppy tailgate attire, cocktail dresses and Lilly Pulitzer to no end, but this doesn't translate to "business professional" attire at work.
7. You'll still go for your low-shelf liquors at the bar, but eventually, you'll have to refine your tastes for better quality alcohol to impress clients.
8. You probably used to order food to-go for movie nights or to binge-watch "Gossip Girl," but now, you'll be ordering food to-go while you're working through lunch.
9. The epic spring break, fall break and summer break days are over, but you'll actually have money to spend on a well-planned, two-week vacation for your PAID vacation days.
10. You used to raid the study room for old tests, notes or papers to skid by in a class all your sisters previously took, but there aren't cheat sheets for the real world.
11. President of your sorority and president of a company have very different job descriptions.
12. The house cook was always around to prepare delicious, healthy lunches and dinners during the week, but now, you have to learn to cook for yourself or expect your wallet and waistline to suffer.
13. Additionally, the house always had someone to come clean each day, but now, you actually have to purchase Windex.
14. There were always assigned parking spots at the house, meaning close proximity to class and bars, but parking in the city is a dog-eat-dog world.
15. While living with 40 plus sorority sisters, there was always someone to go out with; now, after a long workweek, there's always someone to stay in with.
16. Formal was the biggest, fanciest and most memorable night of the year. Now, weddings are the biggest, fanciest, most memorable weekends of the year.
17. You always had your sisters to cheer with you at the bar for basketball and football games; now, you've found work friends from your alma mater whom you never knew, but enjoy cheering with for the sports just the same.
18. Your best friends were in your pledge class, but people move away, change jobs, find significant others and the ones who are meant to stay in your life actually will.
19. You had daily lunch at the house as a way to catch up with sorority sisters you'd never see during the week otherwise, but now it takes more effort to keep up with them.
20. Fundraisers and philanthropy were part of your commitment to sorority, but in an "all about me" world, it takes more effort to contribute to the community without the sorority support system.
21. Yoga pants and leggings were acceptable in class, at the gym and around campus, but now, you have to invest in real pants.
22. Sorority sisters always had random guy friends or frat stars they knew to set you up with for dates; now, you reach out to Tinder.
23. Sisters were there to do everything with you: shop, nail appointments, wine tastings, dinner out, etc. Now, you're swarmed with work requests and client appointments and you'd rather be alone sometimes.
24. Whenever you skipped chapter or a pledge meeting, your sisters wouldn't throw you under the bus. But, miss an office meeting and your promotion is on the line.
25. You could always borrow clothes from any sister's close; now, those clothes aren't always acceptable in the real world.
26. Whenever you needed a heart-to-heart, you could yell down the hall for your sorority sister to come by; now, you actually have to pick up the phone and call.
27. You could eat whatever you wanted, from late-night pizza to mozzarella sticks, and no one would judge you. Now you're expected to eat like a grown up, professional woman (as in, healthy foods)
28. You used to be able to kill a jug of wine with the help of sisters and now, a few glasses work just the same.
29. You could trust your sorority sisters to make sure you got home, to a frat house or to a friend's apartment from the bar, and now, you often wake up random strangers' beds.
30. You probably had 150 plus sisters in your sorority but were only actually close with a handful. Quality over quantity makes a world of difference.