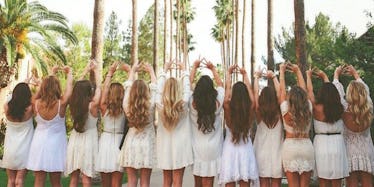 Having A 'Little' In A Sorority Makes You Happier And More Successful
For most "Bigs," your "Little' is the peanut butter to your jelly. When paired together, you create the ultimate sandwich.
Having a great Big/Little match in the right sorority makes college life and your entire Greek experience that much better.
Your Little is the sorority sister who you will mentor and create an extremely close bond with, like no other.
She is also the soul mate/best friend you have always dreamed of having, surrounded by an entire Greek family.
During college, your sisterhood bond with your Little and your sorority is an essential part of Greek life.
The pride, happiness and success you experience and achieve will continue throughout your professional future.
You laugh, cry, learn and grow together in so many ways. You instantly have a great deal in common right from the start because you both chose Greek life, the same sorority and the same college in the first place.
Sorority Ever After asked readers to reveal why their Big/Little bonds are so valuable to them.
One Little said her Big is a lifetime sister who she can always count on and admire.
A Big revealed she loves all four of her Littles for their unique qualities.
They are each beautiful and an integral part of shaping who she is. Another Big said her Littles are miniature versions of herself.
According to Elle, many successful women are Greek ladies, including Elizabeth Banks (Tri Delta), Ashley Judd (Phi Beta Kappa), Lucy Liu (Chi Omega) and Sheryl Crow (Kappa Alpha Theta).
StyleCaster also lists Tory Burch (Kappa Alpha Theta), Jennifer Garner (Pi Beta Phi), Sophia Bush (Kappa Kappa Gamma) and more celebs who are sorority women.
Greek life is most certainly a happy one, and there's actually research to back it up.
The Wall Street Journal refers to a study that found college graduates who were involved in Greek life are happier than non-Greek life students.
They are also healthier, not so strained financially and have a strong social network of friends.
The study goes further to reveal Greeks are more likely to have shared a bond with a college professor and secured an internship -- both are positive steps for success in the professional world.
The Gallup-Purdue index, which included 30,000 polled graduates of different ages, researched what students are doing in college that creates happiness and success after college.
The survey found that 43 percent of Greek graduates described themselves as committed at work, while only 38 percent of non-Greeks could say the same.
Greek life may not be the right choice for everyone. However, from my own positive experience as sorority sister in Theta Phi Alpha, sorority life is an amazing and huge part of college and beyond.
One Big writes about how her Little taught her the guidelines of being a mentor in the professional world.
First and foremost, she was extremely dedicated to her "Big" role.
She has the satisfaction of knowing she played a critical part in aiding her Littles through major decisions they've made in their lives, from moving to a different city, to embracing leadership roles and getting their dream internships.
Any relationship is a two-way road: You get back what you give.
You are there to guide your Little through college and life in general, as you would guide yourself.
This woman continues to say watching her Littles drive down the road to success is such a rewarding feeling.
Similar to that Big, I love and cherish my Little. She's the perfect match for me. We have similar interests, tastes, motivations and values.
Not only can I always count on her to share my sweet tooth, but she truly defines the meaning of "sisterhood," -- exactly what prompted me to join a sorority in the first place.
You will learn so much from your Little, including how to be responsible for someone other than yourself.
An amazing Little knows the meaning of loyalty and will always have your back. She exemplifies all of the qualities of a true friend.
Despite your unique differences, she's there for you through thick and thin -- from horrible breakups to late night venting sessions -- and gives the best advice.
What's shared in secret, stays secret.
She has ambition and wants to accomplish good things. She always wears her letters with pride.
Whether it's popcorn/movie night, a much-needed Starbucks pick-me-up, a sleepover, lunch or dinner date, themed event, crafting, weekly meeting, girls' night out: She's always game for what's up.
You wear corny matching t-shirts and baseball caps and love every single minute of it.
Even after you graduate, and maybe live on opposite sides of the country, you Skype and text and feel like there's no distance between you at all.
Fact: You know deep down you're going to be one another's bridesmaids someday, for sure.
Your Little teaches you to share, from your own experiences to passions and hobbies.
Not only that, but you truly want to share the special moments of your life with her.
She completely supports you and brings out the best version of you that you can possibly be. She's someone you are proud of and have so much fun being with.
My little is all of these things, and so much more.
I am extremely proud and happy to say my Little is like an extension of me… certainly the most perfect PB to my J.
Your sisterhood bond is one that lasts forever.
All of these things your little has to teach will lead you down the road to success, happiness and ultimate well-being.
From pursuing leadership roles and getting your priorities in order, to landing your dream job and starting a family one day (if that's in the cards), you will be cruising down that road with a "hoorah."
When it's the right time to separate business and friendship, you'll know because you've been there and done that throughout your sorority collegiate years.
You know the meaning of loyalty, dedication and time management, which will come in handy in the professional world and future relationships.
Sorority life is truly a happy and successful one.
Do it up and embrace every second of it: It's guaranteed to put a smile on your face.