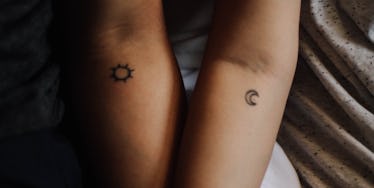 20 Tiny Best Friend Tattoos To Get When You're Feeling Spontaneous This Summer
Summer is all about making memories, and living life on the spontaneous side.
It's the season for being reunited with hometown friends, staying out late, and having as much fun as you possibly can.
When we were younger, we made friendship bracelets and keychains to seal the bond and symbolize all of the amazing times we had together.
But now, what better way to live out your summer to the fullest than impulsively getting matching tattoos with your bestie?
I know, it can seem a little, well... permanent, but if you and your best friend are forever friends, why not go for it and live in the moment?
If you're in the mood to be spontaneous this summer, these cute tattoo ideas make the perfect friendship reminders for you and your bestie.
It's time to grab your other half, and get inked.
1. Your zodiac signs.
Proud to say i helped tattoo my bestfriend and she did the same ❤ @Kimmy_ninja pic.twitter.com/4nUbe5MAqC — Kassandra ♥️ (@lilmissclassy23) March 19, 2017
2. The infamous little hearts to symbolize your deep love for each other.
3. The best duo of all time: a sun and a moon.
4.  Matching mini flowers.
Tiny flower on the left inner arm. Tattoo artist: Cagri Durmaz #smalltattoos #tattoos https://t.co/hVzs9QjzhW pic.twitter.com/YcpfHUy3jW — Small Tattoos (@smalltattooscom) March 1, 2017
5. A word or phrase that means a lot to the both of you.
6. A set of compasses, which will always guide you back to each other.
#Tiny #Anchor #Compass ... - See more tattoo ideas on http://t.co/yt68Y1Dvw7 #AnchorTattoos #RoseTattoos pic.twitter.com/A7UdWholdO — Autosaddict (@Autosaddict) May 9, 2014
7. Your BFF's fingerprint, in the shape of your choice.
8. A set of adorable lotus flowers.
9.  These cute little guys.
Best friend tattoo ideas you and your BFF should get together. https://t.co/KJWmuc4z2U#NationalBestFriendsDaypic.twitter.com/eS17ig8g3a — Brit + Co (@BritandCo) June 8, 2017
10. Matching pizza slices, because pizza is literally life.
11. Tiny aliens, because you two are out of this world.
12. Little lollipops for all of the sweet tooth lovers out there.
hey @ramirezdavid your song means so much to me that it inspired me to get a tattoo with my best friend. just really wanted to say thank you pic.twitter.com/iBRIGo6o07 — olive snook (@ickyvicky_ew) May 14, 2017
13. Matching tiny arrows.
14. Ocean waves for beach besties.
15. An upgrade on the infinity tattoo with a heart.
16. A set of pinky promises.
It's made from calum's letter to us. It's an amazing reminder of how you helped me (It's a matching tattoo with my bestfriend) pic.twitter.com/S4hhZqKhn9 — Adri (@michaelswaves) March 4, 2017
17. A planet and a spaceship.
Second tattoo with my best friend pic.twitter.com/nDJZebEzUL — Ryli
18. The year you both were born.
19. Tiny matching cactus plants.
20. Matching little mountains.
Today I got matching tattoos with my best friend. Every time I look down I will be reminded of all of our fun adventures. I love you, Lily pic.twitter.com/x97WuAGsMR — Emily Elizabeth (@Emily_Shepard97) May 26, 2017