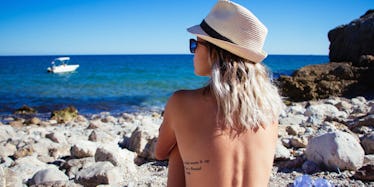 14 Subtle Summer Tattoos To Get If You're All About Those Good Times And Tan Lines
For all of my beach babies who live in the sand throughout the summer, it's one of the most difficult things to endure when the season comes to a close.
You long for more days soaking up the sunshine and diving into the beautiful deep blue.
You'd love to hit up your favorite ice cream shop just a few more times, and a stroll down the boardwalk at sunset never seemed like such a dream.
The separation anxiety is all too real, and it's tough AF to cope when you have to bid farewell to your favorite season, once again.
Let's be honest: Summer is the one season that deserves a freaking speeding ticket.
So, to make the most of this glorious time of year, here are 14 subtle summer tattoos to get if you're all about those good times and tan lines.
Round up your girlfriends and get matching ones on vacation, or take a walk on the spontaneous side and get tatted up solo.
1. A wave on the back of your shoulder or on your wrist, for the gal who lives by "high tides and good vibes" all summer long.
Small wave tattoo on lianne' wrist. #smalltattoos #tattoos https://t.co/0FcjQSIVZ9 pic.twitter.com/FGMxoedU5m — Small Tattoos (@smalltattooscom) December 25, 2015
2. A palm tree on your ankle, for the tropical goddess.
3. An anchor that will forever keep you bonded to the ocean.
Tiny anchor tattoo on the right inner ankle. Tattoo artist: Mini... - https://t.co/i0RXqyxUc4 pic.twitter.com/zh1wRaGYn2 — We Know How to Do It (@how_do_it_com) June 20, 2017
4. A dream catcher that will keep all of your beach dreams close to heart.
5. Different phases of the moon, for your summer night fantasies.
Top 10 Cute and Small Tattoo Ideas and Their Meanings #tattoo #tattoo dream catcher https://t.co/PmYfGPXlXT pic.twitter.com/ZgqxdzXrmV — Plenty Tattoo (@PlentyTattoo) March 17, 2016
6. A baby sea turtle for the chick who loves to swim with the fishes.
7. A beautiful seashell for all of the true mermaids at heart.
8. "Wanderlust" for the avid traveler.
9. A sailboat, to ensure you're always cruising along the waves.
Small sailboat tattoo on the left foot. #smalltattoos #tattoos https://t.co/fqhwuWJ7nm pic.twitter.com/2wf93z0pD2 — Small Tattoos (@smalltattooscom) October 23, 2015
10. A sun, for the babes who love soaking up the rays.
11. A compass that will always guide you back to the shore, no matter where you're at in life.
Small upper back tattoo of a compass by Seoeon. Tattoo artist: Seoeon #smalltattoos #tatto… http://t.co/aJnbgPwRF9 pic.twitter.com/zk1e8GoJrj — Small Tattoos (@smalltattooscom) August 7, 2015
12. "Ocean Child" because, it's your home.
13. A small popsicle, so your life will always be oh-so sweet.
14. A pineapple, because it's always piña colada time somewhere.
Me and Brynn are getting a tiny pineapple tattoo.... It's a must pic.twitter.com/bI47nTObOg — ShannaႿ (@ShannaSurvive) May 20, 2015