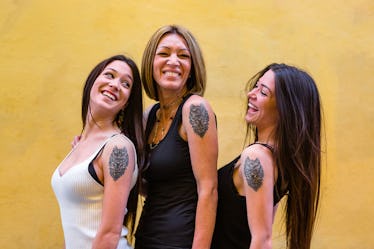 11 Sister Tattoos To Get With Your Other Half That Symbolize How Close You Are
A sister's bond is like no other. You and your sister have grown up together and have seen each other at your best and your worst. There have been plenty of arguments and a ton of bad-mouthing and name-calling, but the love is still there (you just may not always feel it). Once you get older and you're not living on top of each other anymore, you may consider looking at tattoos to get with your sister to show your endless adoration for each other.
Tattoos aren't something that everyone wants, but they are super popular. There are best friend tats, pet tats, relationship tats, and more. There are tattoos for every occasion and feeling, and every personality can easily find a tattoo that works for them. Sometimes the Internet is a good place to go, but you can also find a really dope tattoo artist and work with them to create a special piece of art you and your sister will love forever. These tattoo ideas are great jumping off points to help you pick something meaningful for you and your sis. Make sure not to steal other artists' work, and come up with variations that are tailored to your specific sisterly bond.