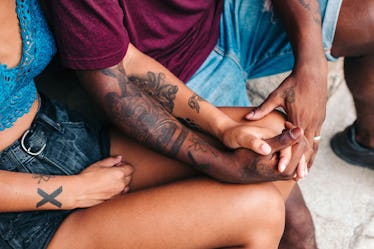 10 Dating Commandments For Fall 2018 That'll Have You Living Your Best Campus Love Life
If you're anything like me, before you headed off to college, you probably spent way too much time fantasizing about all the sexy scenarios you would be getting yourself into. Well, OK, that's a lie, because truth time: When I went to college, I had yet to have my first kiss. I had no idea what I was doing, and it showed. So, whether you're heading off to college for the first time, or you're ready to dominate senior year, these 10 dating commandments for fall 2018 will have you living your best life on campus. And honestly, I wish I had these back in the day.
When I was a freshman, I was completely overwhelmed by all the dating possibilities in front of me. I had more privacy than I did in high school, even though I shared a 10-by-10 room with another girl. Sure, I had fun, but I definitely messed up a lot when it came to romance. Basically every college dating faux pas you can think of, I did it.
But maybe, just maybe, if I had had some more guidance, I wouldn't have, oh, I don't know, dressed up in nothing but a pearl necklace and stilettos for some guy while also forgetting my roomie's 3 p.m. class had been canceled. Just, like, a hypothetical.
College is almost like its own little eco-system, and there are definite rules to navigating the dating scene while you're pursuing a higher education. Behold, and consider following the ones below to live your very best campus love life. Get ready to head into fall semester feeling ready to flirt your heart out!