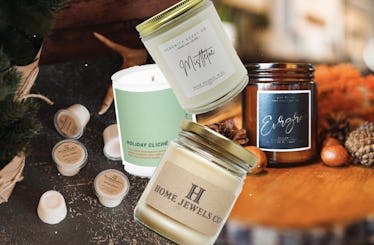 These Etsy Candle Shops Will Add The Coziest Holiday Scents To Your Stash
Etsy
If you had to describe what the holidays smell like, you'd probably think of the cozy candles you've placed around your home this time of year. They might have aromas of cookies, evergreen trees, or mistletoe, and they're essentially left to just the wick by the end of the season. Truth be told, you can't get enough of these festive scents, and need to peruse these candle shops on Etsy to buy holiday scents, restock your stash, and add something #lit to your space.
You may already have a few candle shops on Etsy that you shop regularly. They might sell a three-wicker that smells like pumpkin spice in the fall, and a wax melt that gives you heart eyes like no other piece of decor does. For the holidays, you may gift your close friends and family members one of their DIY candle-making boxes or a holiday candle set along with a personalized wick cutter. Going into this chilly season, you can't wait to add their products to your cart to transform your space into a truly cozy and festive oasis.
These candle shops on Etsy are all created and operated by independent sellers around the world, and the holiday season is a particularly great time to show their small business your love and support. Not to mention, you'll find peppermint, hot cocoa, and mulled cider-scented candles to add to your current stash. Without further ado, here are 10 candle shops to buy from right now.
We only include products that have been independently selected by Elite Daily's editorial team. However, we may receive a portion of sales if you purchase a product through a link in this article.