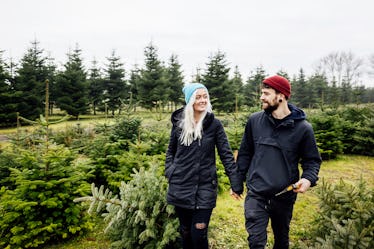 Snap These Insta Pics At The Christmas Tree Farm For The Merriest Holiday Feed
Tom Werner/DigitalVision/Getty Images
Baby, it's pretty cold outside, but that won't stop you from taking your annual adventure to the Christmas tree farm. You can't wait to wander through the fields and pick out the perfect evergreen for your home that you can snuggle up next to when it snows. After all, it's that magical time of year to grab a mug of hot cocoa, wear a cute beanie, and snap the best Instagram pictures to take at the Christmas tree farm for the merriest holiday feed ever.
These ideas are as magical as the first snowfall of the year, or waking up as a kid in the middle of the night to see that Santa Claus had eaten the cookies you put out. When your followers are scrolling on their phone, they'll be in total awe of your creativity, or the way you angled your lens to get the perfect selfie in front of sparkling tree branches. They may even leave you a comment like, "So sweet," or "This looks like the music video for Taylor Swift's 'Christmas Tree Farm' song!" Let's be honest: Creating a scene as magical as a Taylor Swift music video is award-worthy.
It's also something you're totally capable of, especially with these ideas in your back pocket. But before you head out on your sweet adventure, it's crucial to keep in mind the current Center for Disease Control and Prevention (CDC) safety guidelines, due to the ongoing coronavirus pandemic, whenever you leave your house for an activity. Christmas tree shopping is no exception. Note that anyone who you come into contact with outside of your own household presents a risk of contracting and spreading the virus.
Before you head out, be sure to pack your face mask, hand sanitizer (with a minimum of 60% alcohol), and tissues. Check the website for your local tree farm's current health and safety guidelines. They'll likely require you to stay socially distanced (six feet apart) from other visitors while you're shopping and taking magical pics for Instagram.