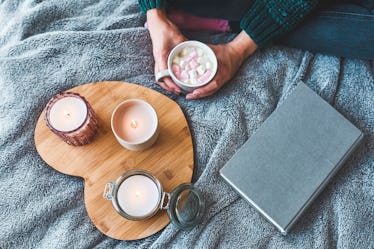 12 Zodiac Sign Candles On Etsy That'll Look So Celestial On Your Shelves
Moyo Studio/E+/Getty Images
Creating a space you love means choosing furniture that suits your lifestyle and decor that inspires you. This may include an art print of a strong woman walking down a city street or an interesting vase that reminds you of a past trip. If you're into astrology, this could be one of the zodiac sign candles on Etsy that'll liven up your space with celestial vibes.
Having one of these candles in your home will surely add to your typical routines and be a centerpiece during your FaceTime convos. You'll wake up, walk into your kitchen or office, and want to light it ASAP. When you're catching up with one of your BFFs, they'll spot it in the background and will ask where you got it (Etsy, duh!) and how chic the label is with its applicable tarot card or sweet constellation drawing.
It may even inspire them to add cosmic details to their own shelves, that will speak to their individual sign, elements, and connections to the bold universe. In those moments, when they slide into your inbox asking for a link, send them to one of these zodiac sign candles on Etsy. Don't forget to compliment how celestial it looks on their shelves once it arrives.