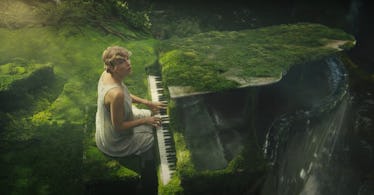 Here's How You Can Recreate Taylor Swift's "Cardigan" Video & Take Mystical Pics At Home
Taylor Swift gave the world exactly what it needed on July 24, 2020: an indie album filled with thoughtful lyrics, relatable stories, and melodies that sound like summer before the leaves change and it becomes fall. It was a total surprise to even Swifties who spend hours decoding the subtle hints in Swift's social media posts and videos. So, when the video for "cardigan" dropped along with the folklore album, a new era flooded our hearts with joy. It made us want to take photos in long dresses, and know how to recreate Taylor Swift's "cardigan" video at home.
TBH, the best spot to capture the mystical bliss of this album is at home. Swift recorded and released this album in the comfort of hers, and every song makes you want to wrap yourself in blankets on a rainy day and let nostalgic thoughts wander through your mind. The album cover alone —which shows Swift standing by herself in the woods — gives you the vibe of an adventurous life jotted down in a journal, or a romance you'd delve into while sitting with a book, lantern, and your dog on your back porch.
The "cardigan" video, specifically, tosses you back into the old fairytale-like creations from Swift like "Love Story", and merges them with a fresh set of timeless emotions and mindful messages. If you want to recreate the lush jungle, daring ocean, and cozy cabin scenes for IG, just embrace these ideas and hit the "capture" button.