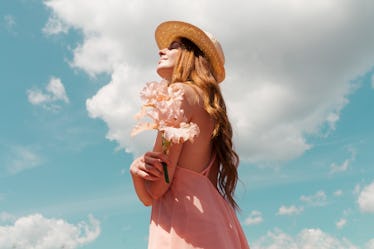 14 Creative Pictures To Take With Flowers & Plant Magic On Your Feed
Westend61/Westend61/Getty Images
The last time you went to the grocery store, you may have picked up a bouquet of fresh flowers. You may have told your partner on the way home that you're going to put them in a vase in the kitchen and have a photo shoot with your new best buds in the backyard. But, there's one thing that's been keeping you and your camera from creating magic: You might not know of any creative pictures to take with flowers outdoors or indoors.
Let's plant a few ideas in your head, shall we? To start, take some time to consider where you want to set up your camera and tripod. If you have a whole photo shoot backdrop already put together in your backyard, you may want to toss on a summery outfit and hold your flowers against the plain sheet. On the contrary, if you'd rather take a quick mirror selfie on your way to your home office one morning, then you'll likely want to get artsy with your reflection. Use some clear tape to create a DIY frame of petals on your mirror, or simply move your vase of peonies and roses to the counter.
The result will be inspired and turn your bathroom into a tropical, floral, and dreamy destination. You'll adore editing the photos you get with the best presets for photos taken at home, too. Most notably, not a daisy will go by that you don't want to take another one of these creative pics with flowers.