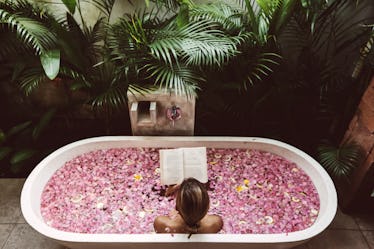 Here's How To Create A Flower Bath At Home For A Dreamy Afternoon Of Self-Care
Shutterstock
Recreating the experiences you may have had while traveling is a #must right now, because your upcoming trips may have been canceled or delayed due to the coronavirus pandemic. This might include pitching a tent in your backyard as if you're spending the night in a starry national park, and learning how to create a flower bath at home, as if you're at a luxe resort in the jungles of Bali. To be honest, creating an Insta-worthy bath covered in pink petals, candles, and lemon slices is easier than you may think.
That's why a lot of influencers are already hopping on this DIY trend and taking their self-care routines to the next level. Instead of calling it quits after a chill session with their jade roller, gel nail polish, and go-to facial, they're choosing to delicately fill their tub, fluff their towels, and soak in the floral bliss. Of course, before sticking their feet in the hot water they are also snapping photographs of their tubs that are surrounded by little glass bottles of essential oils, and positioned next to an open window, so you can take some inspiration for yourself and run with it.
With these photographs saved to your account, you can assess what you need for your very own flower bath, and what surprising elements — like a wooden tray, stack of crystals, or summer read — you may also want to include. Here's what you'll definitely need to get started, and to have the serene, travel-esque afternoon you've been dreaming about.