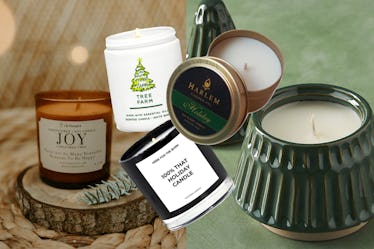 Shop These Holiday Candles For All The Cozy Winter Vibes & Scents-ations
Glo Through It // Bath & Body Works // Harlem Candle Co. // Here For The Burn // Anthropologie
There's never been a better time than the holidays to add a few spiced cider and peppermint-scented candles to your current stash. Between the chilly, winter temperatures and the ongoing coronavirus pandemic, most of your time is spent at home. It's only right that you create cozy vibes in your space with the help of 2020 holiday candles that glow as bright as the stars and smell like the most wonderful time of the year.
Of course, you could be thinking to yourself, "No, I have enough three-wickers to last me a lifetime." Your cabinets are probably filled with the limited-edition holiday candles from last year's festive season, along with some one-wickers that'll never go out of style. Within the closets of each room in your home, you can likely find a candle that you pull out for activities ranging from bubble baths, to baking extravaganzas, and deep cleaning days with your partner.
But, 2020 has been chaotic — to say the very least — and you deserve to shop the latest candles in the spirit of cozy winter vibes and spectacular scents-ations. Save your will power for a later date, and stock up on the gingerbread, sugar cookie, and mistletoe-like scents that are on sale, or just currently taking up stores' shelves. These holiday candles are a few of our favorites you may want to add to your cart.
We only include products that have been independently selected by Elite Daily's editorial team. However, we may receive a portion of sales if you purchase a product through a link in this article.