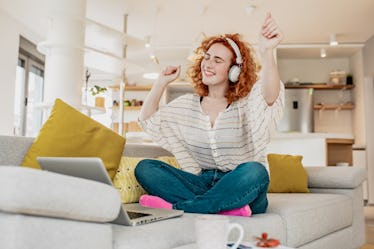 These Virtual Hanukkah Experiences Will Totally Light Up Your World
blackCAT/E+/Getty Images
It's that wonderful time of the year to enjoy latkes and lighting the menorah alongside your family in the spirit of Hanukkah. Due to the ongoing coronavirus pandemic, your festivities this year will look different and involve some virtual gatherings that stray from the norm. While quarantining, you and your family may participate in your favorite traditions over Zoom or tune into these virtual Hanukkah experiences in spirit of the holiday.
Truthfully, signing up for any of these virtual Hanukkah experiences is a great alternative to your traditional gatherings, as they allow you to safely celebrate online. As long as you have WiFi — in addition to a ticket or registration confirmation — you can soak in art, music, and even enjoy a candle lighting all from the comfort of your home. You can learn about the Northern Lights during the Festival of Lights, or get dressed up in festive pajamas and dance the night away.
The best part? Your family members can do the same from the safety of their own homes, to make it feel like you're all together. Simply send them the information they need to get registered, or sign on to one of these virtual Hanukkah events at the correct date and time. Like you, they'll only need a quality Internet connection and a ton of spirit for the holiday for these virtual experiences to totally light up their world.