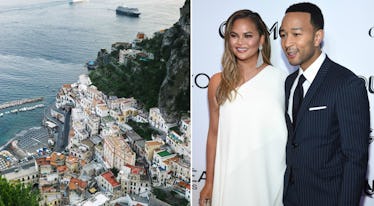 The 10 Most Luxurious Celebrity Honeymoons That'll Make You Green With Envy
Your honeymoon destination should be the place you and your new spouse go to wind down after all the wedding craziness. Despite how wonderful your wedding will probably be, planning for it is pretty exhausting. So, after you're done saying "I do," you and your honey are probably going to want a break. After all, you just spent months arguing over color palettes and table cloth textures. And while it's important to remember that where you go isn't as important as who you go with, taking inspiration from the best celebrity honeymoons (I'm talking lavish!) is never a bad idea.
Surprisingly enough, not all these destinations are ridiculously expensive. I mean, if you travel by private jet, stay at the finest hotels, and eat at the swankiest restaurants, then your wallet might take a pretty big hit. But, it is possible to visit some of these locations without running through every penny you've been saving since you were 14 years old. It's all a matter of finding good travel deals, booking in advance, and staying in reasonable hotels. Even if you're not trying to honeymoon like a celeb, just taking a look at these 10 celeb couples enjoying their own honeymoons will definitely give you and bae something to look forward to.