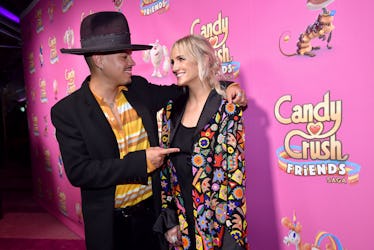 Ashlee Simpson Ross & Evan Ross' Body Language Over Time Shows Nothing But Pure L.O.V.E.
Sean Zanni/Getty Images Entertainment/Getty Images
It looks like Ashlee Simpson found the person to give all the pieces of herself to! Simpson and her hubby Evan Ross have been married for four years and have an adorable two-year-old daughter together. The couple started dating in 2013, and since then, it's been all love between the two. Ashlee Simpson Ross and Evan Ross' body language over time has only gotten cuter as time has passed — from one of their very first public appearances together, to a wedding and a daughter five years later.
But before we dive into the couple's body language, here's a little backstory: They began dating during summer 2013, but were friends for 10 whole years before that. They had a ton of mutual friends who they reportedly hit the clubs with pretty regularly, but that summer, sparks began to fly. Within a few months, Ross was already gushing about his sweetheart. At the Hunger Games: Catching Fire premiere that November, Ross told People, "I'm so in love, and we've got amazing things going on." He added, "We inspire each other. She's the one."
They got engaged in January 2014, tied the knot that August, and in July 2015, they welcomed their baby girl, Jagger Snow Ross. Together, they also parent Simpson's firstborn, a son named Bronx Mowgli Wentz from her previous marriage to Fall Out Boy bassist Pete Wentz. In September 2018, their docu-series Ashlee + Evan aired on E!, which brings us to their lives today.
Here's a look at how their relationship dynamic has changed over time, based on their body language. (Spoiler alert: Get ready to squeal.)