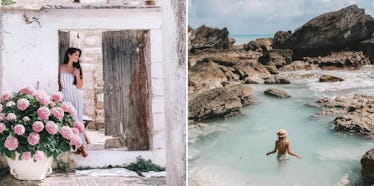 This Epic Vacation Deal Gets You A Trip To The Caribbean & Instagram Lessons (Really!)
@natasiaspassport/@thewonderingdreamer/Instagram
Are you ready to soak up the sun? Summer is going to be here before you know it, and your bathing suits are probably already packed in a stylish suitcase. You've spent all winter (and let's be honest, spring, too) stuck inside and wondering when all of those sundresses will see the light of day. A tropical trip is seemingly the only way to get them on the 'Gram, and you're already considering cute poses for all of your beach posts. Lucky for you and your followers, the Cheap Caribbean "Vacation Envy" package from CheapCaribbean.com will let you travel like an Instagram blogger on your next trip.
Your favorite fashionistas and lifestyle gurus cover your social media feed in travel inspiration every day. They jet set to the teal waters of Thailand, the beautiful rainforests of Bali, and the white sands of Mexico. Ugh, what so many of us would give to live a life like that. But for now, we'll just be taking some tips from the pros and stick to what we really know best — tropical puns for captions that bring in all the likes and comments, for shore.
In between your cups of coffee at the office today, you'll seriously want to consider your next passport stamp. Life should never be dull, and the same goes for your Instagram feed. This leading beach vacation company has linked up with travel influencers Nastasia Yakoub (of @DameTraveler and @natasiaspassport) and Jess Meryck (of @thewonderingdreamer) to create a package that'll surely cure all of your wanderlust and Instagram woes. You'll be bringing all the good vibes from beautiful Bermuda onto the screen with personal photo shoots and so much more. Beach please, what more could you ask for?
When and where is this trip happening?
If you book this trip, you'll be heading to the beaches of Bermuda. You've probably thought about taking on the Caribbean for spring break or even a cruise with your crew. Speaking from experience, the water is just as warm and bright blue as they say, and you'll be feeling salty and sweet for social media.
The getaway consists of three nights from May 17 to 20 at the Hamilton Princess & Beach Club A Fairmont Managed Hotel, otherwise known as "The Pink Palace." You'll be spending plenty of time in picture-perfect places for photo shoots and the like, and truly getting a head start on that relaxing beach time. Seriously, have you started shopping for swimsuits yet?!
What can you expect from this trip?
When you first arrive on Thursday, it'll be all about treating yo' self. You'll spend an afternoon at the spa and wellness center, so you can get relaxed and ready for a full day of photo shoots and meet-and-greets with the travel influencers the next day.
On Friday, you'll learn some photography basics and go to coves and beach spots to try out your new skills. You may already follow Yakoub and Mercyk on Instagram, but if you don't, you'll want to check them out beforehand, because they'll be leading the tutorials and teaching sessions throughout the long weekend. If you've ever wondered how to perfect your profile and set a color scheme for your photos — well, all of your answers will be in Bermuda.
Saturday will be another day spent in the sunshine with endless photo shoots, including one that takes place at sunrise! There's a reason why this package is called "Vacation Envy," and you'll surely make all of your family and friends jealous with your fire content. You'll be posing in the sand, and snapping pictures of your tropical meals. The inner foodie in you will definitely want to remember that dreamy breakfast by the beach.
The trip wraps up on Sunday with exploring shops and local restaurants. You'll get to take home a thousand memories and a custom book created by the influencers with their tips and tricks. You don't want to forget a single thing you learned, so that you can be the next Instagram blogger with an unreal feed.
How can you book this trip?
So, assuming that all sounds pretty sweet to you, you're going to want to snag a spot on this trip ASAP. There are only five double-occupancy packages available starting at $999 per person, and it's a limited-time offer. Booking ends April 26, and can be done by calling the company directly.
Find a creative friend, or the one in your crew with the most wanderlust, and make it a bestie experience. Surely somebody will be down to spend some quality time in the Caribbean.
Palm trees and editing perfect pictures for Instagram? The blogger in me is so excited something like this trip exists. The rainy days of April showers have many of us a little slumped, especially on social media. But, as always, wanderlust is calling and we have to follow it for the feed.