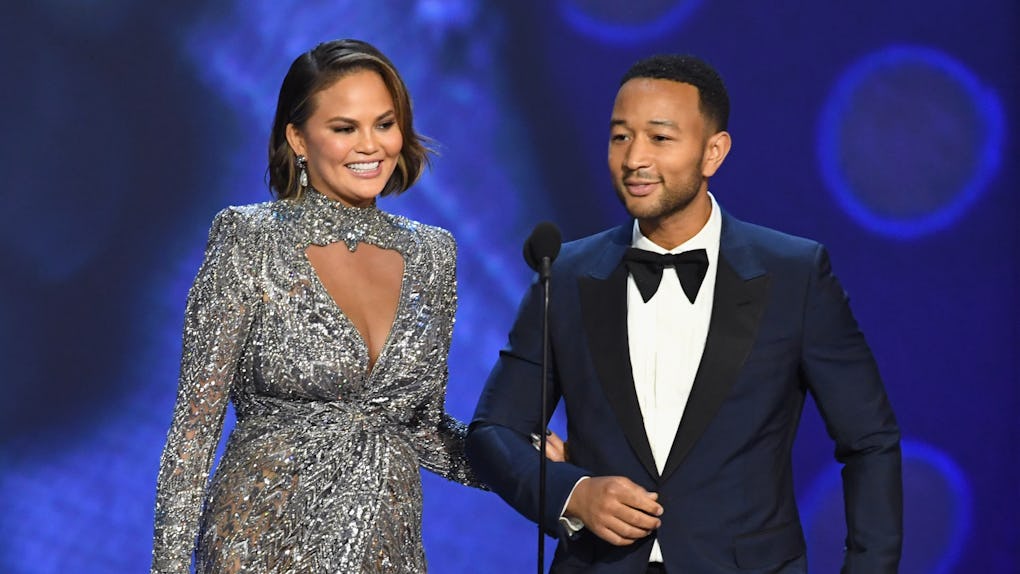 Kevin Winter/Getty Images Entertainment/Getty Images
12 Photos Of Chrissy Teigen & John Legend In Love, In Case You Forgot That They're Perfect
If ever there was a poster couple for the most lovable pair in Hollywood, it would be Chrissy Teigen and John Legend. Since they started dating, these two have thrived in the love department. They never fail to show the world just how into each other they are, and these photos of Chrissy Teigen and John Legend in love prove they're here to stay. (Bless!) I don't know what it is about Chrissy and John (yes, we're on a first-name basis) that makes me root for them so hard. Maybe it's how good they look together or just how real everything about them seems. Whatever the reason, they're the epitome of #goals, IMO.
After meeting on the set of John's music video for "Stereo," the two didn't jump right into a relationship. They did hookup that night, Teigen admitted to Cosmopolitan in 2014, but they didn't start dating until a few months later. They got engaged in 2011, married in 2013, welcomed their daughter in 2015, and then their son in 2018. In September 2018, the couple celebrated their fifth wedding anniversary. In the 12 years they've been together, Chrissy and John have blessed us with some incredibly beautiful pictures that show just how in love they are. And honestly, I am so here for it. For 12 adorable reasons why they're the perfect couple, read on.
1. What a kiss!
Chrissy congratulated John on becoming an EGOT winner with this incredibly passionate kiss, and I'm loving the support here.
2. She's shining so bright.
Look at her smile! She's as radiant as ever in this picture, and I don't blame her. With her hubby giving her all that love, I don't see how she wouldn't be beaming.
4. A little grabby, I see. I approve.
Twelve years after they met and John still can't keep his hands off his wife. I am living for this.
5. Just look at how he's admiring her. Excuse me while I melt.
If this picture of John admiring his wifey and stepping back while she does her thing isn't the definition of a perfect picture, I don't know what is. This is the kind of love I want. Attention future spouse: Are out there? Are you getting this? Take notes, please!
6. Laughter is truly a wonderful thing.
Seeing two people laughing up a storm with each other like Chrissy and John are in this picture is just so heartwarming.
7. A beautiful couple with two beautiful children. (Miles not pictured because he wasn't born yet.)
Just photoshop baby Miles in here, and we're set for the most picture-perfect family portrait... ever.
9. Even in onesies, they're still stunning.
I don't know about you, but I've never looked that good in a onesie. Not to mention the KFC fried chicken onesie combo is ridiculously cute.
10. OMG, I'm swooning.
12. YAS Girl!
If you don't want to print out a poster-sized version of this photo and hang it up on your wall, look again. The leg pop, the face grabbing! It's the sweetest thing!
John Legend and Chrissy Teigen have been going strong for 12 whole years, and as long as they continue to thrive, everything will be right in the celeb-o-sphere. (So protect them at all costs.) Find yourself a partner who is as in love with you as John and Chrissy are with each other. Now, if you'll excuse me, I have some more obsessing to do. (Watches "Stereo" music video for the millionth time.)