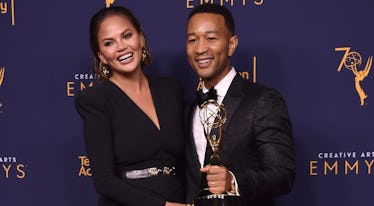 John Legend Completed His EGOT, So Naturally Chrissy Teigen Made An Arthur Joke
Alberto E. Rodriguez/Getty Images
John Legend has proven his last name once again. At Sept. 9's Creative Arts Emmy Awards, Legend took home the Best Variety Special (Live) trophy for producing the NBC live musical Jesus Christ Superstar Live in Concert. But the Emmy had a much bigger significance, because it solidified John Legend as one of the very few entertainers to achieve EGOT status. And of course, Chrissy Teigen had jokes about John Legend's EGOT win, including bringing up his animated aardvark counterpart.
As of these recent Creative Arts Emmys, John Legend is now one of only 15 people to have ever achieved an EGOT — which stands for winning an Emmy, Grammy, Oscar, and Tony. And the big Jesus Christ Superstar Live win at the Emmys also launched two other people into the EGOT club along with Legend: fellow producers and composers Andrew Lloyd Weber and Tim Rice also completed their EGOTs thanks to that Emmy. But John Legend's win is special for a few reasons. Legend is the first black man to ever achieve EGOT status, and at 39 years old, he is also the youngest person to ever complete an EGOT.
To celebrate his entrance into this exclusive awards club, John Legend posted a photo with his fellow EGOTers Andrew Lloyd Weber and Tim Rice, along with a note describing how honored and amazed he was to be one of the 15 stars to ever complete an EGOT.
But of course, nobody was more excited about John Legend's EGOT than his wife, Chrissy Teigen. Right after Jesus Christ Superstar Live won the Emmy, Teigen led the online celebration like only she can. Teigen shared a few photos of herself an Legend on Emmys night, from a brimming-with-pride kiss after he won the award to passing out on a couch as the festivities wore on.
And of course, Chrissy Teigen could not pass up this momentous occasion to make an Arthur joke. After a bunch of online jokes pointed out the resemblance between John Legend and the children's cartoon character Arthur the aardvark, Teigen has taken in the lead in making every joke comparing the two that she can. As Legend placed his newly-won Emmy among all of his other awards at their home, Teigen thought it was the perfect occasion to quote the Arthur theme song: "And I say hey, what a wonderful kind of day."
John Legend's Emmy now joins his cavalcade of other major awards, including his 10 Grammys, his 2015 Oscar for Best Original Song, and his 2017 Tony for Best Revival of a Play.
And Chrissy Teigen may have even more reason to celebrate next week, when the Primetime Emmy Awards take place. Although John Legend's EGOT is already secured, he is still up for the Outstanding Lead Actor in a Limited Series or Movie Emmy at the primetime awards for playing the lead role of Jesus Christ in Jesus Christ Superstar Live.
The 70th Primetime Emmy Awards will air live on Monday, Sept. 17 on NBC.