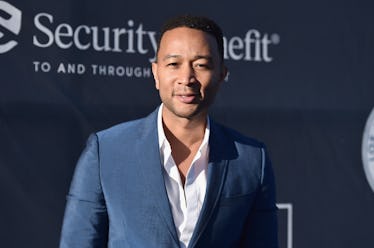 John Legend Just Got An Emmy Nomination & Fans Are Ready For Him To Be An EGOT Winner
Alberto E. Rodriguez/Getty Images Entertainment/Getty Images
John Legend might be achieving a legendary feat very soon. Having already bagged multiple Grammys, an Oscar, and a Tony, John Legend's Emmy nomination this year means that he may become one of the few people in the world to win an EGOT. In case you don't know the term, EGOTing means winning an Emmy, Grammy, Oscar, and Tony, and it is an honor that literally only twelve people in the world have ever achieved! This year's Emmy Awards could induct John Legend into that exclusive club.
On Thursday morning, John Legend received his first ever Emmy nomination, which is for Outstanding Lead Actor in a Limited Series or Movie for his starring role in this year's NBC musical special Jesus Christ Superstar Live in Concert. Legend played Jesus Christ in the live staging of the Andrew Lloyd Weber rock opera, which aired on Easter Sunday.
If John Legend wins the Lead Actor in a Limited Series or Movie Emmy Award this fall, then he will have complete his EGOT. Legend currently has ten Grammy Awards for his various albums, one Oscar for Best Original Song in 2015 for his Selma track "Glory," and one Tony for Best Revival of a Play in 2017 as a producer for Jitney. Legend has never been nominated for an Emmy before this year, but thanks to his outstanding performance in Jesus Christ Superstar Live in Concert, which is categorized as a TV movie, he finally has his first shot at grabbing the E for this EGOT.
John Legend's wife Chrissy Teigen could not contain her excitement over the potential EGOT news, although she joked that it might mean moving aside some of her own prestigious awards.
Winning an Emmy at the 2018 ceremony would also make John Legend one of the quickest EGOT winners ever. If he wins this year, there would have been only a twelve-year span between when Legend won his first Grammy in 2006 to when he completed his EGOT in 2018 — that timespan is second only to composer Robert Lopez, who completed his EGOT in ten years.
John Legend would become the thirteenth person to ever win the EGOT in strictly competitive awards categories, joining EGOT winners like Audrey Hepburn, Whoopi Goldberg, Rita Moreno, and Mel Brooks. There is also a slightly expanded list of EGOT winners who completed their EGOT with a non-competitive award, which includes Barbra Streisand, Liza Minnelli, and James Earl Jones, but if Legend wins his Emmy this year he would have won each of his award in competitive categories.
Of course, the trick is going to be actually winning the Emmy. John Legend is facing some stiff competition in the Lead Actor in a Limited Series or Movie category. To get his EGOT this year, Legend will have to beat out these actors who are nominated against him: Antonio Banderas (Genius: Picasso), Darren Criss (The Assassination of Gianni Versace: American Crime Story), Benedict Cumberbatch (Patrick Melrose), Jeff Daniels (The Looming Tower), Jesse Plemons (Black Mirror: "USS Callister").
Obviously, names like Antonio Banderas, Benedict Cumberbatch, Jeff Daniels carry a ton of weight in prestige projects, and Darren Criss and Jesse Plemons delivered two of the most buzzed about performances of the year in popular projects. John Legend has the disadvantage of being a relative newcomer to the field, but hey, Jesus Christ Superstar Live in Concert was a ratings giant for NBC, and Legend had everyone on Twitter talking about how incredible he was as Jesus Christ, so fans definitely should not count him out. Oh, and not to mention that Jesus Christ Superstar is tied for the eighth most nominated program at the Emmys this year with an impressive thirteen noms. That John Legend EGOT is coming!