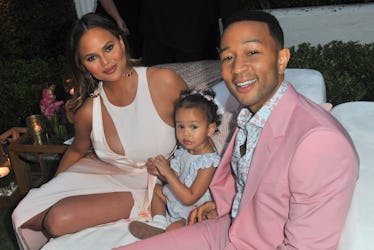 Chrissy Teigen Shared The Cutest Vid Of John Legend Having A Total "Dad" Moment
Jerod Harris/Getty Images Entertainment/Getty Images
It's been a tough year so far with one celebrity couple breakup after another. Luckily, Chrissy Teigen and John Legend have been here to tell us that it's going to be OK. The married couple has been serving sweet (and funny) parenting moments and 'Grams that are the epitome of relationship goals. Prepare to believe in love again, because Chrissy Teigen's Instagram video of John Legend, Luna, and Miles will make you swoon. Seriously, it's so cute.
Like any new parents (celebrities, they're just like us), the lovebirds enjoyed a stay-at-home date night on Friday, July 7. Instead of heading out on the town, the "All of Me" crooner was on daddy duty, and the evidence is so heartwarming. Teigen, aka maven of all things social media, took to Instagram to to document a silly #struggles moment he shared with her newborn son, Miles, and 2-year-old daughter, Luna. TBH, any parent will find it so relatable.
It's no secret that the Lip Sync Battle host loves to make fun of her bae, and it's one of the reasons I love following her antics on social media. Whether she's (very lovingly) trolling Legend over his resemblance to Arthur or accusing him of stealing their chargers (so real), her flirty yet honest dynamic with her husband is proof that the couple that laughs together, stays together.
On Friday, she infused humor into a parenting situation that hits so close to home: Trying to literally balance two energetic toddlers and totally failing. In Teigen's Instagram video, the singer can be seen trying to burp baby Miles in his lap. This is made a little more difficult by the fact that daughter Luna just isn't having it. The little tot takes advantage of the moment to balance on his shoulders and even appears to poke him in the eye as she climbs around. The best part is that she doesn't even notice. It's the epitome of #parentlife, and you won't be able to stop watching the sweet moment on repeat.
Was there any sympathy on Mom's end? Of course not. "Bahahahahaha," Teigen hilariously wrote alongside the clip.
To further illustrate the situation, the former Sports Illustrated model shared a still from the evening where the dad-of-two is feeding baby Miles from a bottle, and her caption says everything.
"The eyes say 'help,'" she teased.
It's hard to remember a time when these lovebirds weren't together, and it's heartwarming seeing them divvy up parenting duties. After all, it's only been a few months since they welcomed their newest addition to the Legend family, and it looks like they're bringing their trademark humor to all the joys and struggles of raising a newborn.
In a May interview with ET Online, the musician opened up about the adjustment of having a new baby in the house, sleepless nights included.
"I am not sleeping, but it's OK," he told the publication. "I'm starting to remember how it was the first time around with Luna. It's all coming back to me, and Chrissy too. This is that period in his life and our lives where you get less sleep and work a little harder. I'm trying not to work too much outside of the house because we got a lot to do at home." Looks like they've definitely got this under control.
It's no secret that they're a united team when it comes to parenting. When Teigen was getting criticized by mommy-shamers for the crime of going to dinner after giving birth to Luna, Legend came to his wife's defense on Twitter.
BRB, swooning. Teigen's latest Instagram is just further proof that these two lovebirds are the epitome of parenting goals we never knew we needed.